CONSORT M6 is a smart LTE vehicular communicator – built to be installed in a vehicle for effective and safe communication.
CONSORT M6 can be typically used in transportation, fire trucks, public safety, etc. to enhance secure operations.
Status Indicator
CONSORT M6 contains LED indicators for safe and secure operations while driving at the night.
Noise Cancellation
Provides outstanding audio quality with noise cancellation feature making it reliable to be even used in noisy environments.
Extended Interface
Provides interface to various other external devices such as audio interface, power interface, etc.
Location Services
Track location of field personnel, share live locations or create location-based temporary groups.
Ensure Safe Driving while Communicating Freely
Can be easily installed in the vehicle, allowing personnel to communicate freely and efficiently while driving safely.
PTT and other Functional Buttons
Contains Push-To-Talk, programmable, and other functional buttons for quick and secure communication with other personnel.
Rugged and Reliable Design
Designed to endure harsh environmental circumstances, ensuring robustness and efficacy for secure and advanced communication.
Enhanced GPS and LTE Signals
Designed to use smart technologies allowing real-time tracking of vehicle's location providing more connected, secure and efficient driving experience.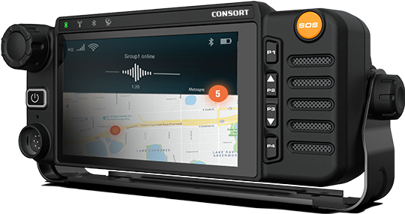 Anti-glare screen
Secure night driving
Open app ecosystem
Safe driving and effective communication
Real-time mapping and locations
Stable LTE coverage
Wish to know more?
We will contact you shortly  to answer your queries