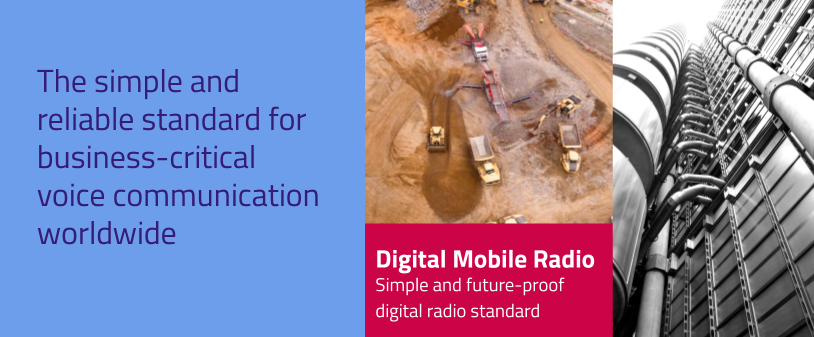 Overview
DMR [Digital Mobile Radio] is an open standard for digital radio communications established by the ETSI, first created in 2005.The protocol is designed to operate inside already existing frequencies with a bandwidth of 12.5kHz that are already used in the analog world.
Key benefits
Simple – Simplified digital standard for critical communication.
Compatible with analog –  backward compatible with analogue radio networks.
Higher coverage – benefit from higher output power and therefore increased coverage.
Scalability – easily scale up network coverage
Simulcast – Use minimum frequency for extended coverage
DMR Tier III
DMR Tier III covers trunking operation in frequency bands 66-960MHz. The Tier III standard specifies two-slot TDMA in 12.5kHz channels. Tier III supports voice and short messaging handling similar to MPT-1327 with built-in 128 character status messaging and short messaging with up to 288 bits of data in a variety of formats. It also supports packet data service in a variety of formats, including support for IPv4 and IPv6.

Easy Digital Migration
Customer operating analogue networks can easily migrate to digital technology but still interoperate with their own legacy radios.
Advanced features
New features such as priority call control, remote control of the transmitting radio, emergency call  and  messaging.

Standards & Interoperability
DMR is a fully open standard from ETSI backed by a wide variety of vendors worldwide.
Superior audio performance
DMR digital technology provides better noise rejection and preserves voice quality over a greater range.