LTE Radio Control Panel RCP 5210 is a Human Machine Interface, typically installed in a static configuration and provides the controllers with MCPTT and MCDATA communication functions like Group Calls, Half Duplex  Individual Calls, Full Duplex, Emergency Calls and Data messaging.
This system provides an option of  LTE wireless bearer or Ethernet wired connection. Depending on client-specific requirements, the RCP can be customized for key layout, Graphical User Interface (GUI) and other integrations.
Configurable Hardware Keys
Contains 29 physical buttons to perform critical and specific operations for quick accessibility.
Easy Software Logging and Upgrades
Contains a suitable interface for easy access to software logs and upgrades increasing reliability and security.
Integrated Design and Proven Platform
Compact design with optional modules such as LTE/ Wi-Fi based on Linux Long Term Support [LTS].
Support Numerous Call Features
Provides support for numerous call features such as Group Calls, Half & Full Duplex Calls, Emergency Calls, RTT.
Compliant with MCx and FRMCS
RCP 5210 complies with 3GPP Release 15 & plus for mission-critical communication and rail-specific functions within FRMCS, therefore, providing upgradation and support to future functionalities.
LTE-Based Touchscreen Interface
With a 10.4″ TFT display, capacitive touchscreen technology and configurable hardware keys, the Radio Control Panel 5210 offers an intuitive and user-friendly interface for easy navigation and operation. Based on LTE standards, supports high-speed and reliable connectivity enabling seamless communication over long distances.
Supports Customizability
The RCP 5210 offers customization options to meet client-specific requirements. It can be tailored to accommodate different key layouts and graphical user interfaces (GUI), allowing users to adapt the control panel's appearance and functionality to suit their specific needs and preferences.
Easy Installation and Flexibility
The RCP 5210 includes a mounting unit that facilitates easy installation and provides flexibility in system configuration helping streamline the setup process and enabling the control panel to be conveniently integrated into control rooms and stations, enhancing overall system usability.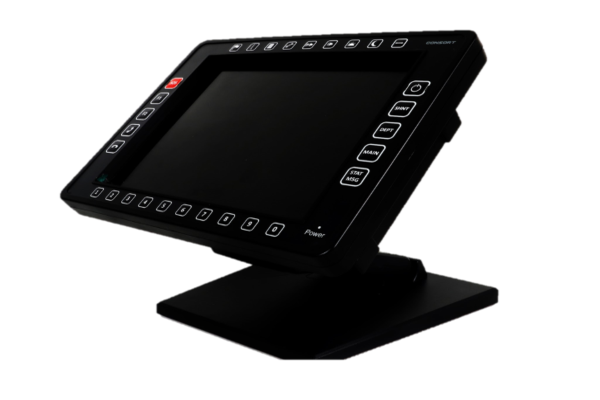 MCPTT, MCDATA Release 15 Compliance
Types of Calls – Group calls, Full & Half Duplex calls, Emergency Calls, RTT
Identification – Talking Party Identification, CLIP
Priority Levels – MCPTT, MCDATA, QCI Support (Optional), 5 Priority Levels
User Access – Log On/ Log Off, Configurable Menu
Default Groups – Mainline, Depot, Operation
Wish to know more?
We will contact you shortly  to answer your queries