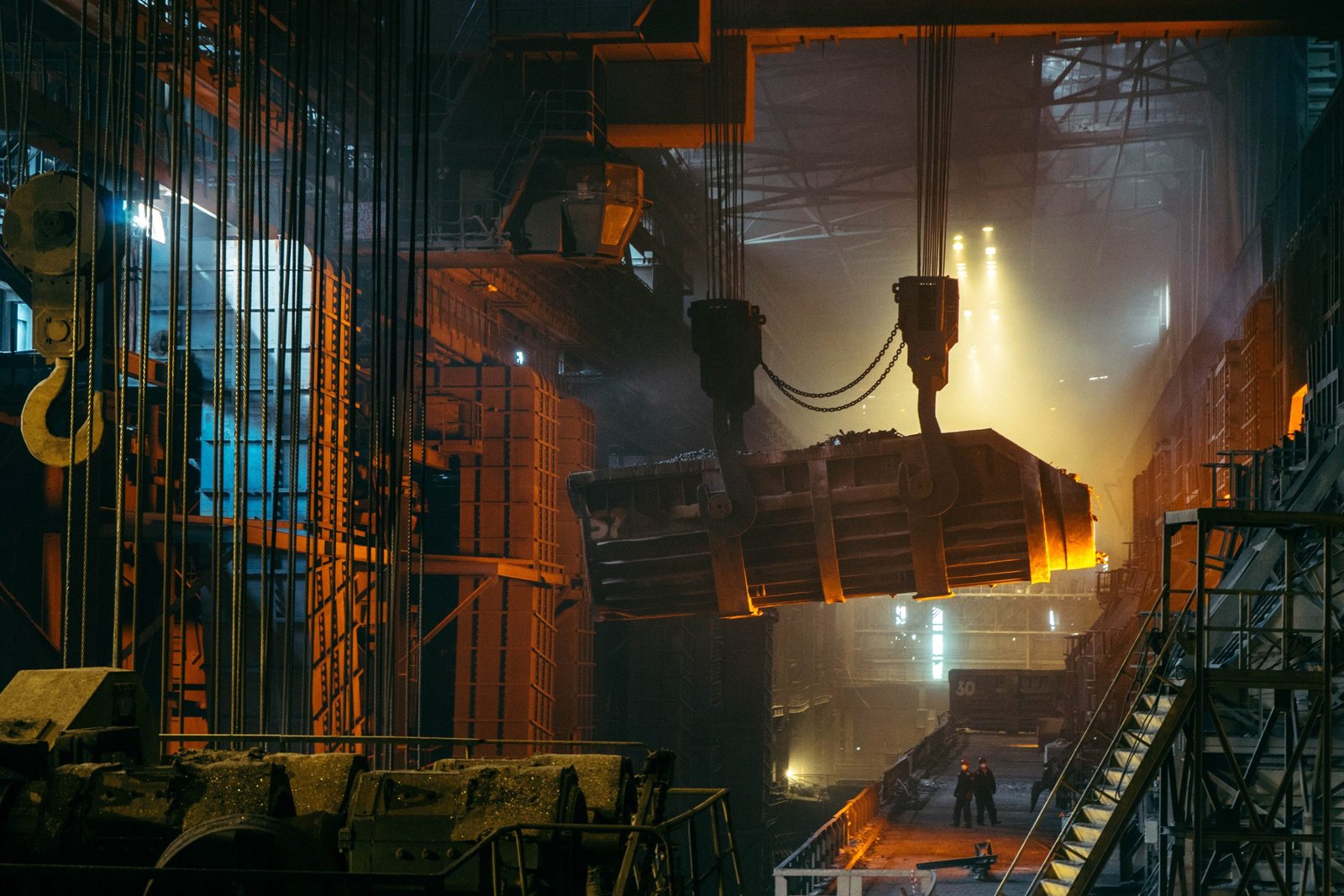 Steel industry plays a crucial part in the global economy providing a foundation for manufacturing, transportation and infrastructure. These large steel plants are complex and process large-scale operations that require immediate, robust and reliable communication to ensure efficient and safe production processes.
MCX ONE mission-critical solution provides large steel industries with advanced critical communication solutions over broadband 4G/ 5G/ Wi-Fi networks catering to their modern requirements.
The modern, digital and innovative steel industries require a fully connected ecosystem for improving safety, reliability and productivity in the industry. The coordination between different stakeholders and departments is the ultimate requirement for seamless operations and continued production. Some major requirements of modern large steel industries are:
The requirement of transceiving multimedia messages that enable real-time images, audio, video and file-sharing. Leveraging the speed and capabilities of LTE 4G/ 5G for faster communication is required for quick decision-making among teams resulting in better performance.
Extensive and Unified Coverage
Various departments in steel plants such as blast furnaces, rolling mills, steel making, etc. have to work together for efficient production. To enable seamless communication between all departments, a unified and extensive network is the most crucial requirement.
Interdepartmental Connectivity
Operations in large steel plants involve participation from different departments for seamless production. Continued communication between stakeholders is required to enable them to work collaboratively towards a common goal improving decision-making and reducing delays.
Advanced Control Room Applications
There is a requirement for advanced control room functionalities that are dedicated to large steel plants, catering to their specific needs to improve efficiency and productivity. Modern and advanced control room applications must be able to monitor all relevant departments and provide them with specific assistance when required.
Suitable Devices for Harsh Conditions
Conditions in steel plants are often harsh due to high temperatures, high ambient noises, corrosive material, dust and vibrations. Therefore, the devices must be able to withstand these extreme conditions for efficient operations,
Integration of Various Applications
Various applications in steel plants such as IoTs, CCTVs, Vehicular tracking, etc. must be integrated into one platform to provide a one-stop solution for all the applications and smooth the entire process in the steel industry.
The network in the steel plants must be susceptible to scalability according to the current and evolving requirements. As and when the industry grows, the network must be able to accommodate the increasing volume of data and communication traffic.
Secure and Resilient Communication Network 
Large steel industries always deal with sensitive and confidential information. And critical operations are often interdependent and any interruption could cause significant losses Thus, a secure and resilient communication network is required to protect critical information.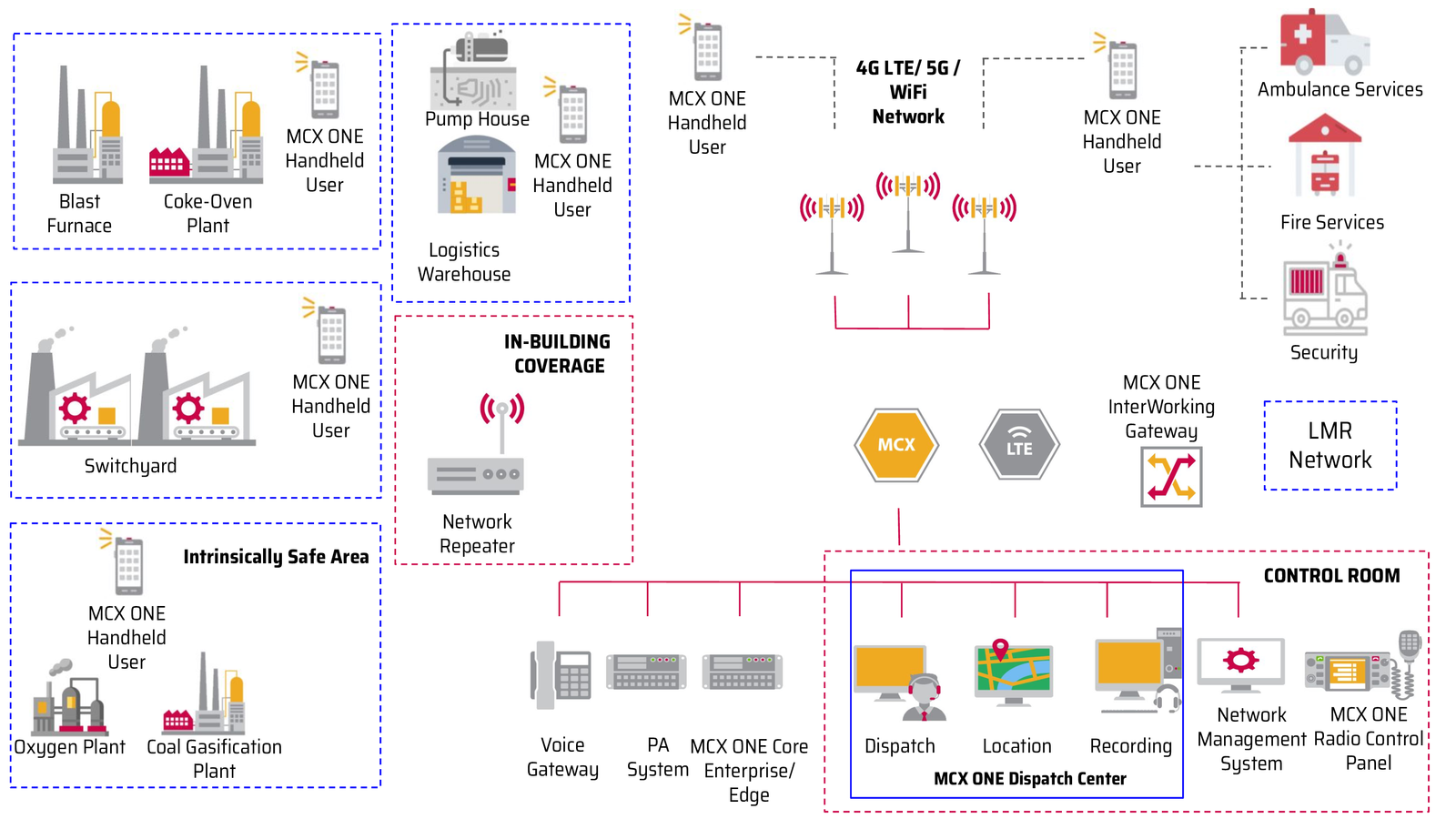 CONSORT's MCX ONE mission-critical and business-critical solution is based on 3GPP's MCX Open industry standards. It helps to provide fast, secure and reliable communication in the industry. The MCX ONE mission-critical solution for Large Steel Industries comprises of :
MCX ONE Core Edge Server –

Provides mission-critical application services for small to medium organizations.  It offers MCPTT, MCDATA and MCVIDEO features over public and private 4G/ 5G / Wi-Fi networks.

MCX ONE Dispatch Center – 

MCX ONE Dispatch Center is a next-generation, modern and versatile dispatching solution bracing Voice, Data and Video applications. It provides multiple views for users that include – communication, alerts, locations, recordings, and industry-specific views.

MCX ONE Mobile Application –

P

rovides users with the speed and reliability of professional radio PTT along with the ability to share voice, data and video. The application facilitates Push-To-Talk, Push-To-Data, and Push-To-Video from Android/ iOS devices.

MCX ONE Interworking Gateway –

Provides integration of Voice and Data services between MCX ONE and narrowband Land Mobile Radio (LMR) systems through a standard-based feature called Interworking Function i.e. legacy network can continue to co-exist with MCX ONE.

MCX ONE LTE Rugged Handset –

Provides advanced features and functionalities to deliver MCX services (Audio, Data and Video) to professional users. It provides outstanding audio quality by providing active noise cancellation in a noisy working environment and contains a dedicated Push To Talk button for emergency services.

MCX ONE Application Integration Server –

MCX ONE Application Integration Server allows provisioning of innovative applications relevant to particular industries. Enabling a wide range of applications and solutions for industry 4.0 for future-proof critical communication.
By leveraging advanced technology and deploying MCX ONE mission-critical solutions, steel plants can enhance operational efficiency and effectiveness while ensuring the safety and well-being of workers and various stakeholders. The solution can integrate with various applications and systems such as IoTs, CCTVs, etc. in the steel industry, thus bringing all stakeholders and departments together on one platform.  
Key benefits of MCX ONE solution for steel plants are as follows – 
Future-proof Solution –

Based on 3GPP's latest MCX standard, the solution incorporates current narrowband and future broadband technologies such as 4G/ 5G/ Wi-Fi hence bracing audio, data and video functionalities for critical communications.

The solution facilitates multimedia messaging, allowing users to share real-time information by enabling images, audio and video. This can help industries with quick and smart decision-making resulting in less delay and production loss.  

Improved Control Room Applications –

MCX ONE mission-critical solution provides steel plants with industry-specific views for control room applications. Thus, providing better monitoring, positioning and dispatching solutions specific to steel plant requirements. 

Allows potential users to help track locations of other field personnel, create geo-fence and location-based temporary groups.

Highly Scalable and Reliable Network –

The steel plants are constantly evolving and expanding according to the market demand. The solution provides steel industries with extendible coverage, capacity and reliability as per their growing requirement.

Lower Operating Cost / Low CAPEX and OPEX –

Providing cost-effective solutions to industries as the solution can deploy narrowband technologies TETRA/ DMR as well broadband technologies 4G/ 5G/ Wi-Fi.

Enabling various financial budgets, it supports the deployment of public and private networks as per customers'

CAPEX

and

OPEX

budgets.

Interworking with Legacy LMR–

Currently, steel industries are based on TETRA/ DMR network, thus changing immediately to a broadband solution could be cost consuming process. Thus, the MCX ONE solution allows Land Mobile Radio (LMR) users to communicate directly with MCX ONE devices.

Easy and Fast Provisioning –

The solution helps the steel industry to transform into the future by facilitating a wide range of solutions and applications for industry 4.0 thus, enabling easy and fast provisioning among steel industry.