Modern metro rail systems require proven voice and data communication bearer for current and future railway applications. Across the world, TETRA technology provides mission critical and reliable solutions for mass transit systems.
Consort Digital provides complete turnkey communication solutions for modern metro systems. The solution is based on world leading DAMM TetraFlex platform along with  products and applications developed for specific requirements of metro rail customers. The solution supports both UTO/Non-UTO modes of operation.
Key objectives of TETRA Communication System for the metro rail systems are :
Efficient and reliable train operation [ driver to traffic controller ]

Improve safety of operations during normal and emergency situations

Communication between different agencies [operation , maintenance, security teams]

Security of passengers on train and at stations

Flexibility and scalability in group and individual communication for various operational scenarios

Provide bacup bearer for key alarms from rolling stock.
The communication solution is required to meet the following key requirements :
Coverage

– provide reliable coverage across track sections and in depots etc.

Good audio quality

– drivers suffer from high cabin and ambience noise and therefore the radio system must be able to filter out maximum noise during transmission.

Instant communication

– instant call setup for train driver communication to OCC/BCC controllers.

Functional addressing

& Location based calling – Integration to ATS [Signalling System ] for Train ID/ Train Position.

Integration to Onboard Public announcement systems

– Ability to make a live PA announcement from Dispatcher in OCC to any specific or group of trains.

Integration to various Rolling Stock sub systems

–  TCMS, PISPAS and Help Point/PEA.

Communication to wayside sub systems – 

telephony system, wayside PA system

Integration to Central voice and data recording solution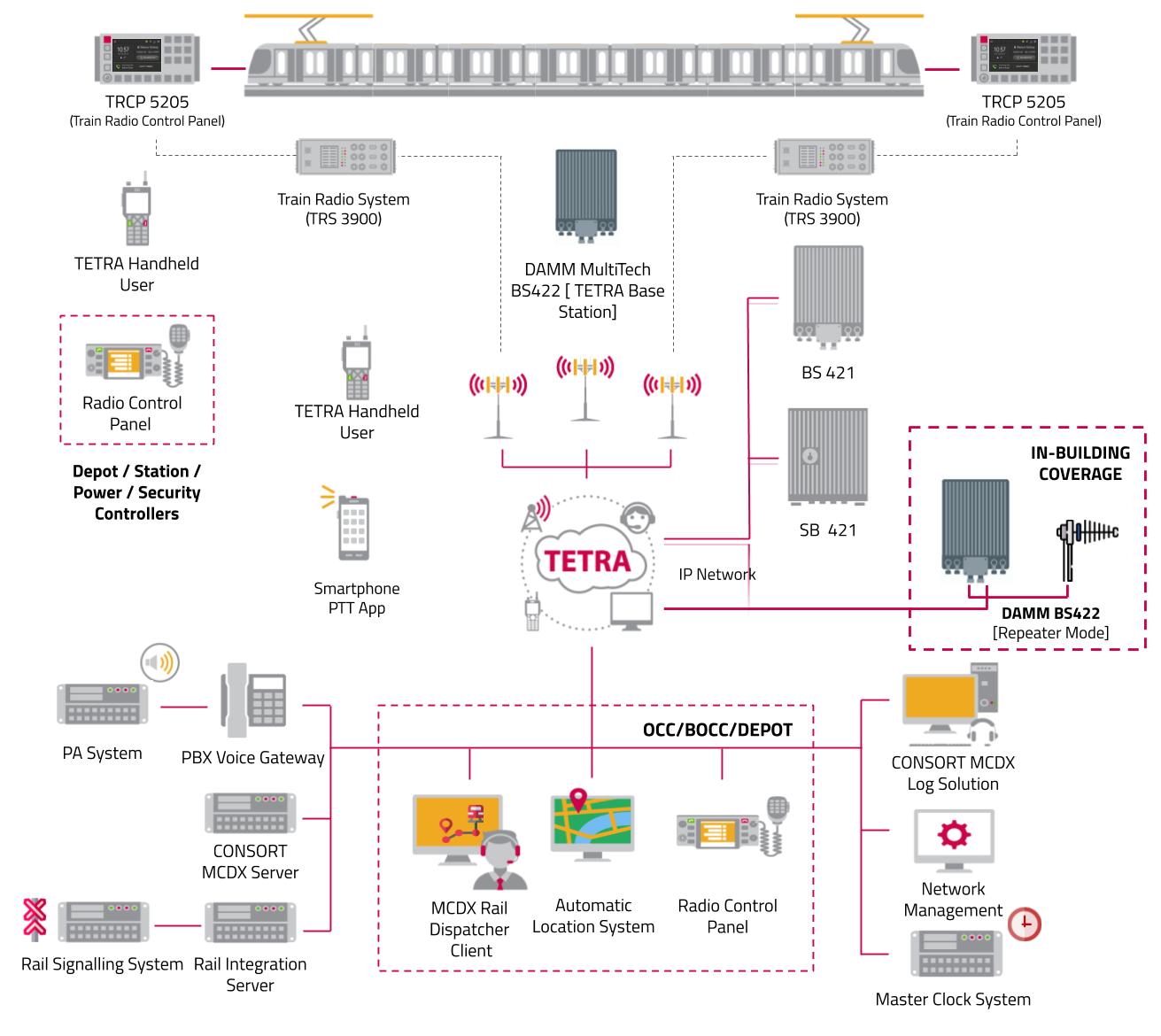 DAMM's TetraFlex Solution provides a reliable and complete trunked TETRA communications system, enabling private and secure voice and data communications across all activities in metro operations for increased efficiency and optimized safety. The DAMM IP-based platform connects all network components – including base stations, dispatchers, network management tools, external gateways and other applications – in one flat distributed IP architecture. The DAMM TetraFlex system enables full scalability of both capacity and coverage. This makes it possible to create integrated communications across multiple stations, logistics facilities, depots, maintenance facilities and centralized operational control centers. TetraFlex system's easy accessible Application Programming Interface (API), that allows straightforward development and integration of customer-designed applications.
Secure voice communications The highly flexible voice communication services support individual private calls, group calls, telephony communications (EPABX) and more; always with crystal-clear voice quality.
Efficient Data Communications TetraFlex data services are the key to achieving operational efficiency
Distributed architecture  that enables easy and seamless scaling of networks with no single point of failure
Intuitive user coordination User-defined groups and staff teams can easily be defined and coordinated
Easily accessible API for easy integration into third party systems
Network security build-in security features like, Authentication and Air interface encryption
Free choice of terminal suppliers