For modern and large steel plants, multiple workers across different departments interact with each other to ensure continuous production cycles. Furthermore, large steel structures and high tension zones make it imperative for a reliable communication solution.
A good and reliable communication solution vastly improves the plants safety and efficiency. In order to maximize production, reliable and scalable communication is key. Equally critical, the user devices would also need the capability to deliver clear audio throughout the plant where machines can generate noise levels up to 120 decibels.
Steel plants require reliable digital voice and data communication solutions.  There are multiple stakeholders and external contractors working at a plant and therefore it is critical to provide a communication system which can provide unified communication for all in case of emergency, while allowing them confidentiality for their normal communication. Some of the key requirements are :
Good voice quality in noisy environments
Plant operations have high ambient noise and therefore desired communication solution must be able to filter out maximum background noise during transmission.
Ensure reliable and safe operation
Today's plant operators need fail-safe connectivity to operate safely and efficiently in an increasingly demanding and regulated environment.
Enhance operational flexibility and efficiency
By ensuring instantaneous communication from users in different departments and processes at various locations across the plant facilities. Seamless communication within and across departments ensures maximum efficiency of operations.
Next gen applications for control room  and field workers
Modern communication systems must support the need for next generation applications for communication room and field workers.
Interoperable and multi-vendor support
The proposed solution must be fully interoperable and be standardized for a multi-vendor environment.
Intrinsically safe devices for flammable areas
ATEX or equivalent certified devices are required for operation in Flammable zone 0,1 or 2 depending plant zone.
Upgrade by interconnection to broadband
The proposed solution integrates with modern broadband communication networks such as WIFI and LTE for supporting data applications.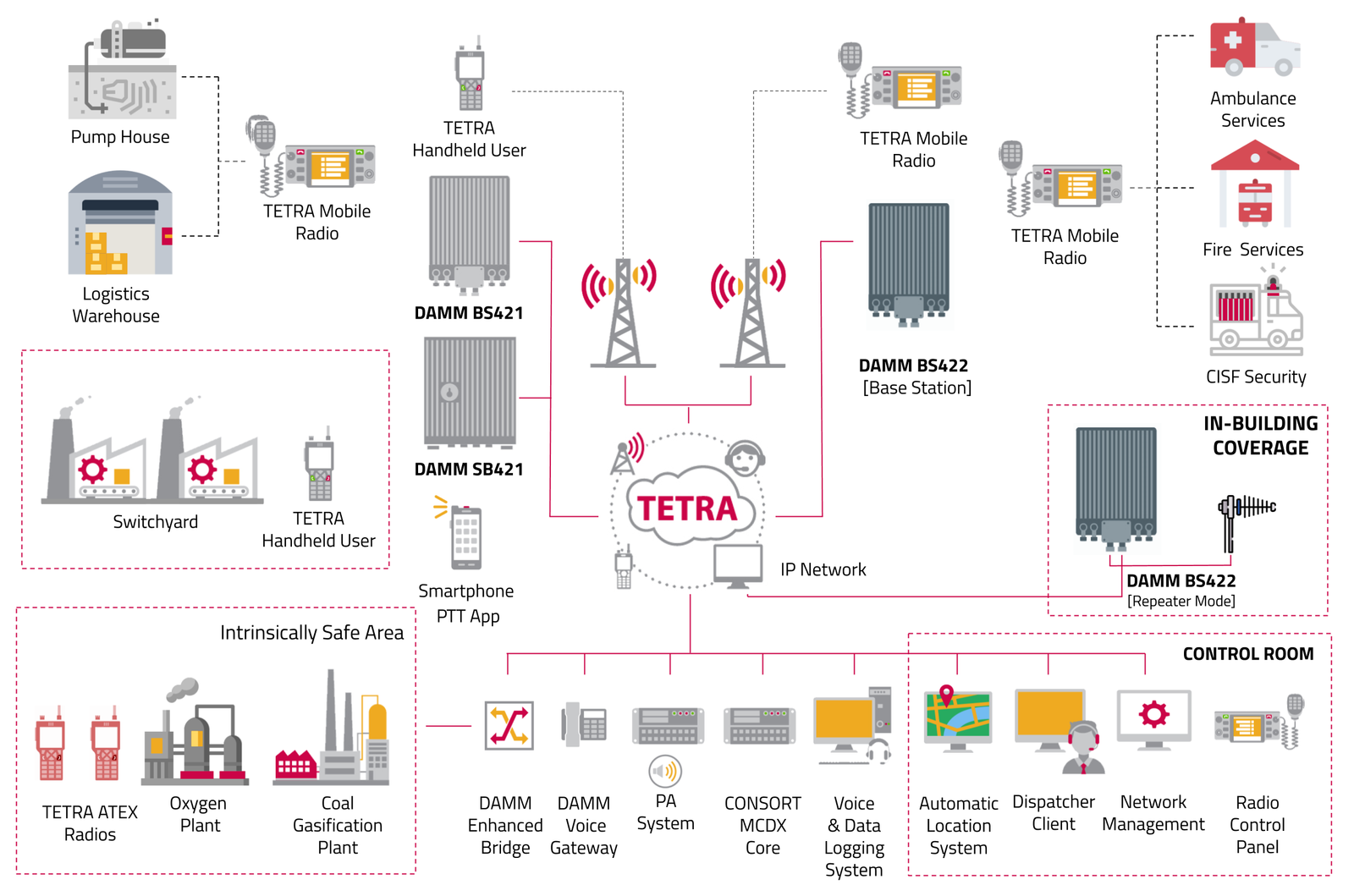 CONSORT TETRA Solution is based on DAMM TetraFlex which is a modern, reliable and cost-effective communication platform designed to meet diverse yet specific requirements of plant communication.
The TETRA solution for steel plant provides the following salient features:
Provide reliable, seamless voice and data communication services between field users and control rooms.
Provide user friendly control room dispatch applications.
Interface with Public Announcement and Public Information System.
Intuitive fault management system.
Flexibility in installation in different areas and zones of the plant..
Intrinsically-safe user devices for flammable areas.
Push To Talk Application for Smartphone users.
Integration ready with other existing radio technologies, future WIFI or LTE networks.
The steel plants are getting more automated and modernized. There is a key focus on efficiency and safety during production. Consort Digital solutions provide significant benefits for steel plants. These solutions ensure vastly improved operational efficiency and security of the users.
Key benefits of our communication solution include –
Plug and play design – easy deployment and scaling up of mission-critical solution. System administrators can integrate all network components, including base stations, dispatchers, network management facilities and external gateways at any time, even while the system is in operation.
Lower operating costs – The solutions are based on DAMM TetraFlex that offers plug-and-play simplicity for easy setup and fast deployment. The compact design of the DAMM outdoor base station enables direct mounting on antenna masts, buildings and towers, reducing feeder loss and installation costs considerably. Both the indoor and outdoor base stations offer extremely low power consumption, and thanks to the IP65 encapsulation, the outdoor base station doesn't need any external air-conditioned housing. DAMM TetraFlex is developed with flexibility and user-friendliness at the core, saving substantially on training and project costs.
Low maintenance – extremely high reliability ensures low maintenance costs thereby reducing total cost of ownership.
Integration to other plant communication systems – The solution integrates through standard interfaces such as SIP to other plant communication systems.
Integration to legacy systems – Allows for simple integration to legacy wireless and wire line communication systems.
Integration to broadband networks – Allows easy integration to WIFI /LTE users through Smartphone PTT Application.