Train Radio Control Panel 5205 is a Human Machine Interface, typically installed in the driver cabin and provides the train pilot with call functions like Group Call, Half Duplex  Individual Call, Full Duplex, Individual Call, Emergency Call, Broadcast Call, Passenger announcements into the Train, Text Messaging and Functional Registration.
This system is fully IP based and provides a secure network architecture offering a high level of security and integrity. TRCP provides the highest levels of reliability and environmental standards for the transportation industry.
Configurable Hardware Keys
Contains 32 physical buttons to perform critical and specific operations for quick accessibility.
Easy Software Logging and Upgrades
Contains a suitable interface for easy access to software logs and upgrades increasing reliability and security.
Integrated Design and Proven Platform
Compact design with optional modules such as LTE/ Wi-Fi based on Linux Long Term Support [LTS].
Support Numerous Call Features
Provides support for numerous call features such as Group Calls, Half & Full Duplex Calls, Emergency Calls, RTT.
TETRA-Based Interface
Based on TETRA standards, TRCP 5205 provides reliable and secure connectivity enabling seamless communication. Offers an intuitive and user-friendly interface with a 5 inch TFT display and a 32 keys membrane keypad.
Customizable Design
The TRCP 5205 can be customized to meet the specific requirements of different clients. This includes the ability to tailor the key layout, Graphical User Interface (GUI), and onboard integrations according to individual preferences and operational needs.
Streamlined Operations
The control panel is ergonomically designed to provide quick and easy access to essential functions, hence simplifying operations for train pilots, reducing the cognitive load, and enabling efficient decision-making during critical situations.
Secure IP-Based Network
The system utilizes IP-based technology, ensuring a secure network architecture that offers a high level of security and integrity. This safeguarded communication platform prevents unauthorized access and protects sensitive information transmitted through the control panel.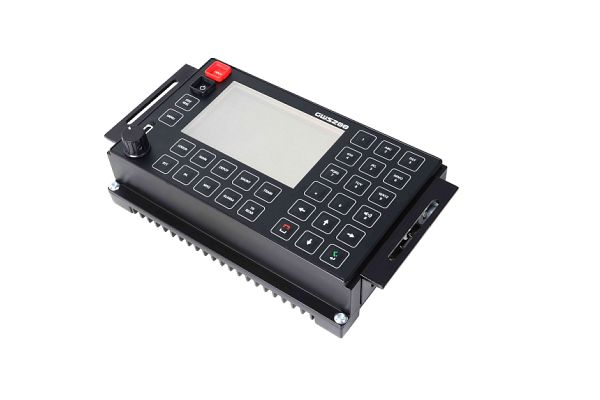 MCPTT, MCDATA Release 15 Compliance
Types of Calls – Group calls, Full & Half Duplex calls, Emergency Calls, Broadcast Calls, RTT
Priority Level – 15 (TETRA) / 5 (MCPTT)
Onboard Integration – Passenger Announcement/Information, Passenger Emergency, RST Alarms, Onboard Signalling
User Access – Log On/ Log Off, Configurable Menu
Default Groups – Mainline, Depot, Shunt, Train
Wish to know more?
We will contact you shortly  to answer your queries