Madhya Pradesh Police choose DAMM TetraFlex® for SIMHASTHA 2016
January 22, 2016
Posted by:

Consort Digital

Category:

Public Safety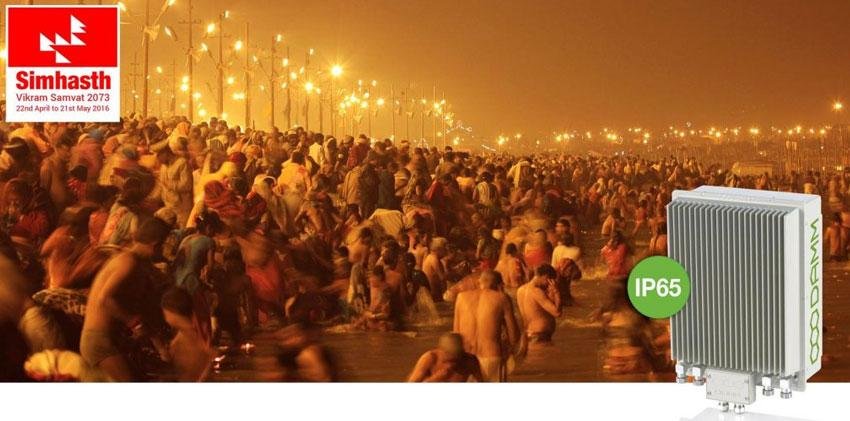 SIMHASTHA or the Kumbh Mela, held in the city of Ujjain in India, is the largest aggregation of people in the history of mankind. Approximately 50 million pilgrims are expected to attend the event over a period of one month from April 22nd to May 21st 2016.
Digital TETRA Radio Trunking System is expected to serve the communication requirement of all coordination, crowd management and law and order activities. 23 thousand police personnel, 80 thousand administrative staff and 60 thousand volunteers are planned to be deployed.
Madhya Pradesh Police chose DAMM TetraFlex® Solution after a detailed evaluation process and field trials alongside other digital technologies such as P25 TDMA and DMR. Features and functionalities offered by TETRA were seen to be far superior to other technologies. Being an open standard proved important as the customer could choose among the best radio terminals available to meet met their operational requirements.
The communication solution consists of a Multisite DAMM TetraFlex® Outdoor System along with gateways for interconnection to telephony network and the existing Analog network of Madhya Pradesh Police. DAMM TetraFlex® Voice and Data Logging System is also provided to ensure that all communication over the digital radio trunking system is logged, stored and available for retrieval and playback during an audit process.
TETRA replaces P25 Analog System
The DAMM TetraFlex® System has been deployed to replace the existing P25 Analog System of Madhya Pradesh Police and is expected to serve the requirements of the police during the event and for the next fifteen years ahead.
Allan Detlefsen, CCO, DAMM, states: "We are delighted to contribute to ensure safety by providing safe and reliable mission critical communication during a such major event. The DAMM TetraFlex® Base Station is the perfect choice for this event due to its decentralised architecture and its capability of being installed outdoor – thereby minimizing space required as well as installation costs. The fact that DAMM TetraFlex® allows for communication not only with TETRA terminals but with regular smartphones enables expanded use during as well as after the Simhastha 2016."
About Telecommunication Consultants India Limited
Telecommunication Consultants India Limited (TCIL), a prime engineering and consultancy company, is a wholly owned Government of India Public Sector Enterprise under the administrative control of the Department of Telecommunications (DOT), Ministry of Communications and Information Technology, Government of India. TCIL was set up in 1978 for providing Indian telecom expertise in all fields of Telecom, Civil and IT to developing countries around the world. The company's core competence is in the fields of Switching, Transmission Systems, Cellular Services, Rural Telecommunication, Optical Fiber-based backbone trans systems, IT & Networking Solutions, Application Software, e-Governance, 3G Network, WIMAX Technology and also Civil Construction projects.
About DAMM
DAMM is a world-leading provider of scalable, flexible and user-friendly digital radio infrastructure systems to industrial, commercial and public safety customers. Built for the future of critical communications, the DAMM MultiTech Platform enables voice and data communication across technologies, including TETRA, TEDS, DMR and Analog in one single system. With over 35 years of experience in critical radio and broadband communication, we take the lead through superior engineering and a constant focus on customer needs and reduced complexity. To find out more about DAMM or any aspect of our solutions or services, visit www.damm.dk or follow us on LinkedIn.