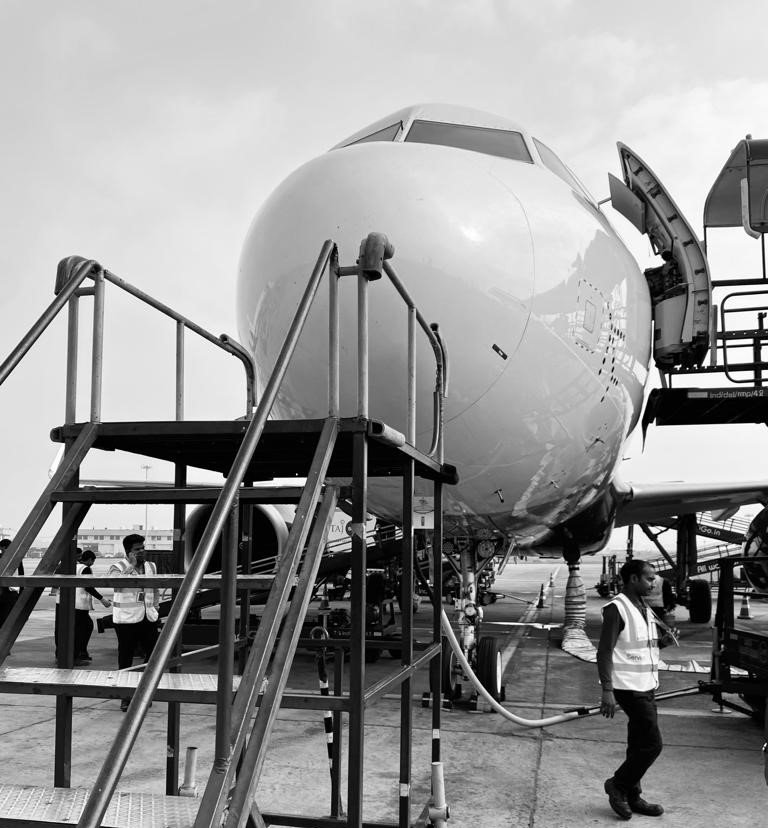 Airports host millions of travelers, contributing trillions of dollars every year to the global economy. Thus, Airports must always ensure smooth & super-fast operations along with the highest level of reliability & security. Since the aviation industry caters to time-critical operations, fast communication between different departments is the key to smooth and continuous operations.
MCX ONE mission critical solutions provide business-critical users with advanced communication services over LTE 4G/ 5G/ Wi-Fi that forms the base for future business and mission-critical communications in the airport industry.
Modern and smart airports are being designed to have high operational efficiency and thus require a fully connected ecosystem of communication. A single consolidated network is required that can support communication among all the stakeholders, including peripheral service providers, rather than a distributed communication network for all the different services working together at airport.
Some major requirements of modern airports are:
Next-Generation communication for Business-critical applications
Leveraging the speed and capabilities of LTE 4G/ 5G/ Wi-Fi for faster communication leads to quicker decision-making among teams. Requirement of real-time information over the network that facilitates multimedia messaging which includes file-sharing, real-time images, audio as well as video.
Multi-Organization Communication
Airport operations are managed and operated by different stakeholders from different organizations. Bringing them all together on a single platform for communication rather than each using its network is the utmost priority for highly efficient operations and a secure environment at an airport. A unified network elevates coherency among teams and helps respond to critical situations seamlessly.
Increased air traffic and passenger demand for large airports that cover vast land areas, providing coverage to highly expanded areas incur costs and challenges. With modern IP-based broadband solutions coverage is not an issue. Users should be able to initiate calls anytime and anywhere with a good LTE 4G / 5G/ Wi-Fi connection.
High Resilience, Reliability and Security
A high level of resilience including security is the greatest requirement against threats such as cyber-attacks, cyber-crimes, etc. The network should be highly available to multiple levels of redundant capabilities and should be able to handle failures & breakdowns in as low time as possible.
Control Room Applications with advanced functionalities
There is a need for improved functions for the control room at airports. The control room applications must be easily able to manage, initiate and control communication among various other stakeholders. The control room applications must be able to provide proper monitoring, dispatching and positioning of all the fleet members.
Interoperability with LMR Systems
To ensure smooth operations the solution must be interoperable with the narrowband Land Mobile Radio (LMR) systems.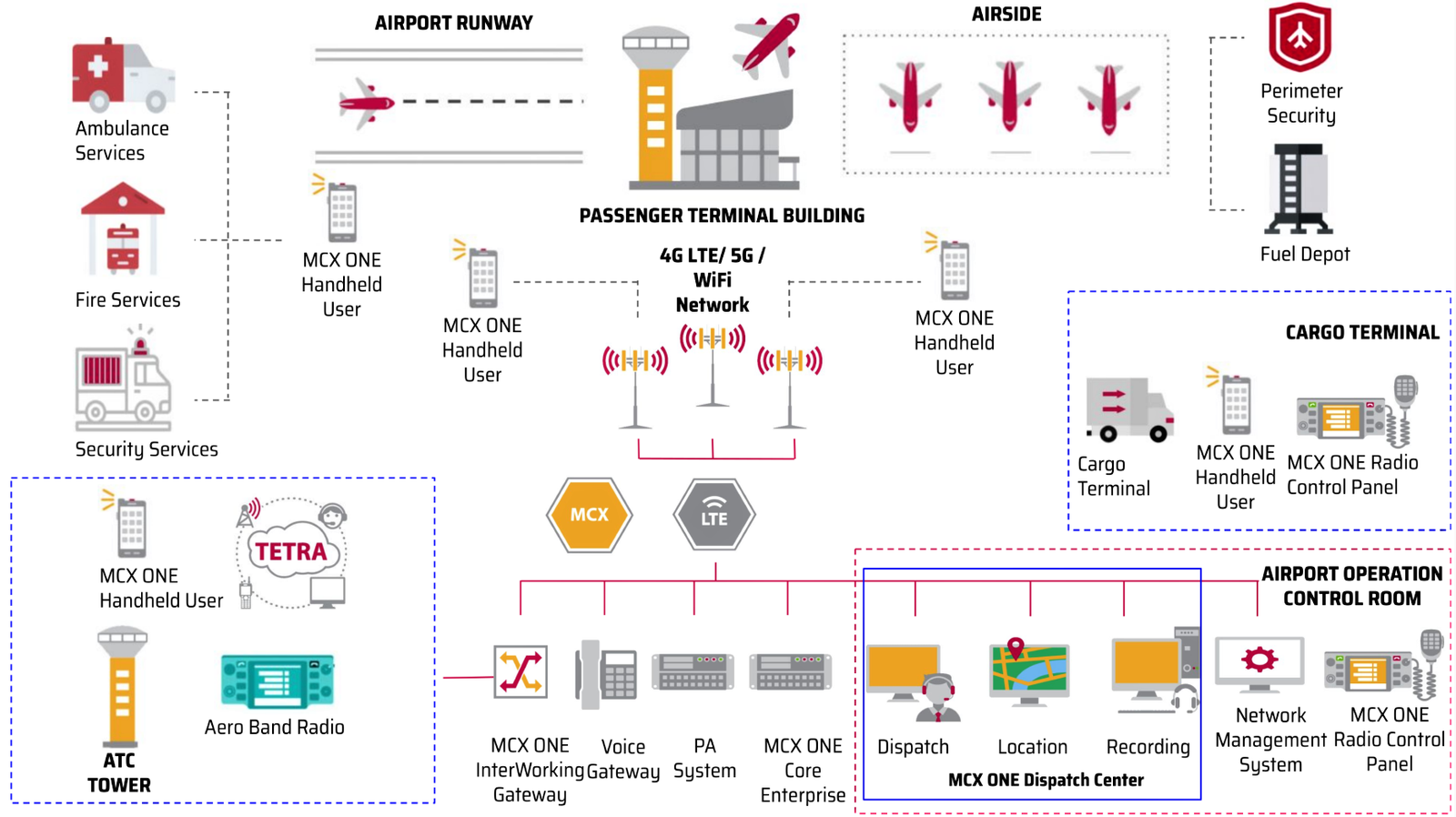 CONSORT MCX ONE mission-critical solution is based on 3GPP's MCX industry standard. The MCX ONE mission-critical solution for Airports comprises of :
MCX ONE Core Enterprise Server – MCX ONE Core Enterprise Server provides mission-critical application services for medium to large organizations.  It offers MCPTT, MCDATA and MCVIDEO features over public and private 4G/ 5G / Wi-Fi networks.
MCX ONE Dispatch Center – MCX ONE Dispatch Center is a next-generation, modern and versatile dispatching solution bracing Voice, Data and Video applications. The dispatching solution provides ease of customization, deployability and integration for control room applications. It provides multiple views for users that include – communication, alerts, locations, recordings, and airport-specific view.
MCX ONE Mobile Application – MCX ONE Mobile Application provides users with the speed and reliability of professional radio PTT along with the ability to share voice, data and video. The application facilitates Push-To-Talk, Push-To-Data, and Push-To-Video from Android/ iOS devices.
MCX ONE Interworking Gateway –  MCX ONE InterWorking Gateway provides integration of Voice and Data services between MCX ONE and narrowband Land Mobile Radio (LMR) systems through a standard-based feature called Interworking Function i.e. legacy network can continue to co-exist with MCX ONE.
MCX ONE LTE Rugged Handset – MCX ONE LTE Rugged Handset provides advanced features and functionalities to deliver MCX services (Audio, Data and Video) to professional users. It provides outstanding audio quality by providing active noise cancellation in a noisy working environment and contains a dedicated Push To Talk button for emergency services. 
With growing traffic at airports, the urge to adopt broadband-enabled networks has gained momentum due to their significance in providing next-generation services at greater speed. MCX ONE mission-critical solution can potentially bring all the airport stakeholders to one platform for communication along with integrating crucial systems and applications such as CCTVs, PA, PIS, and IoTs.
Key benefits of our modern communication solution include –
Future-proof Solution – B

ased on OPEN standards for critical communications integrating current narrowband and future broadband requirements.

Supports broadband technologies such as LTE 4G/ 5G/ Wi-Fi, thus bracing audio, data, and video functionalities.

Highly Scalable –

MCX ONE solution allows for the expansion of capacity and coverage. Airports are ever-growing to cater to a larger number of passengers and therefore require a solution that can be scaled up for an increasing number of users and greater coverage requirements.

Low CAPEX and OPEX –

The solution allows for multiple technologies to be deployed that include TETRA/ DMR as well as 4G/ 5G/ Wi-Fi.  It s

upports deployment of private and public networks facilitating various financial models as per the customer's CAPEX and OPEX budgets. 

Interworking capabilities with legacy LMR Networks –

The majority of airports are having a fully established TETRA or DMR communications network as their major source of everyday communications among different stakeholders. Since transitioning from LMR could be a time and cost consuming process, MCX ONE IWF allows TETRA/ DMR users to communicate with MCX ONE devices directly. 

Support for Airport-Specific Applications – P

rovides airports with advanced and improved functionalities made especially for the airport industry, thus catering to their specific requirements. MCX ONE aims to provide a smart communication network that works in correspondence with applications used at airports for smarter operations and increasing customer satisfaction.