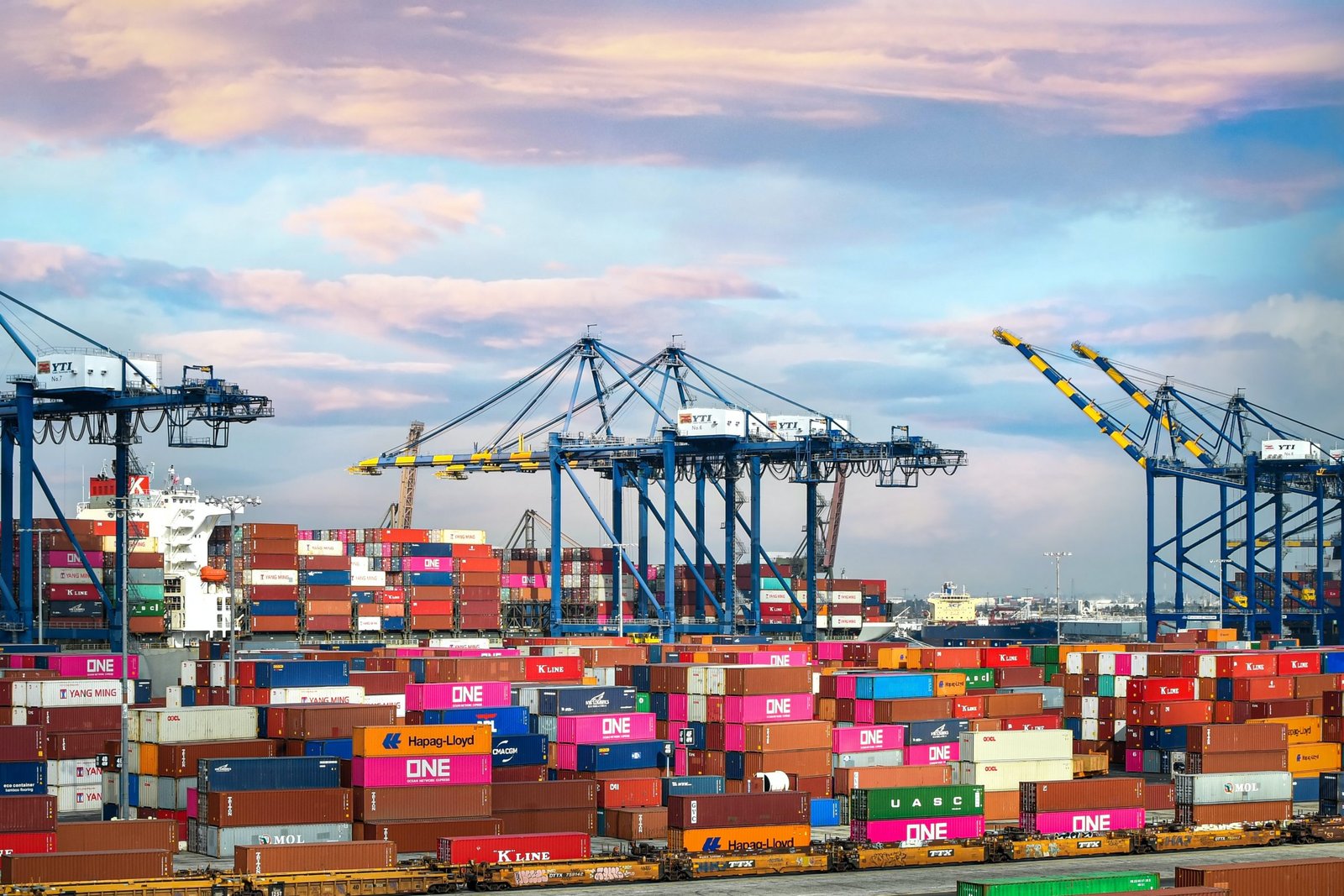 Ports are the major hubs for global transportation and communications all over the world, serving as gateways for the movement of goods, people and information between different countries. The marine industry caters to time-critical operations. Thus, fast and reliable communication is required for smooth and efficient operations around ports.
MCX ONE mission critical solutions provide business-critical users with advanced communication services over LTE 4G/ 5G that forms the base for future business and mission-critical communications in the maritime industry.
Ports are fundamental to the logistics industry worldwide but still lack modernization and transformation as per the current technologies. Various operations such as crane operations, vehicles, containers, security and other staff members require a fully connected ecosystem to communicate effortlessly and efficiently. 
Some major requirements of modern and smart ports are:
High Speed and Real-time Communication
High-Speed communication systems are required in smart ports to provide real-time updates on the status of vessels, detect and respond to potential threats, tracking of cargo movements, port conditions, etc.
Multi-Stakeholder Support
All the stakeholders in ports such as port authorities, security personnel, dockworkers, and terminal operators must be able to communicate effectively on a unified platform to enhance safety & security, sustainability & productivity, and timely decision-making & reliability.
Suitable Devices for Challenging Environments
Weather extremities and noisy environments are one of the key challenges for the digital transformation of ports. Thus, the devices must be able to withstand adverse weather conditions to deliver clear and improved sound quality.
Integration with other Applications
Ports 4.0 require the involvement of various advanced technologies and applications such as IoT(s), CCTV(s), robotics, etc. The solution should be able to integrate all these applications in order to provide digital, automated & connected ports.
Next-Generation Control Room Applications
Smart ports require advanced control room functionalities as per their specific requirement to improve overall efficiency. Modern control rooms must be able to monitor relevant stakeholders and provide them with immediate and specific assistance.
Interoperability with Other Network Devices
Currently, ports are using narrowband LMR networks and require a solution that must be interoperable with LMR devices for smooth operations.
Accurate location sharing and tracking are required to monitor various personnel and vehicles to improve safety among ports by tightening security.
Robust, Secure and Resilient Network
Ports contain oceans of data that carry critical and confidential information. Thus the solution must provide end-to-end security to prevent the greatest threats such as cyber-attacks, etc. The network should be able to handle failures and breakdowns in as low time as possible since any interruption in port operations can have a knock-off effect.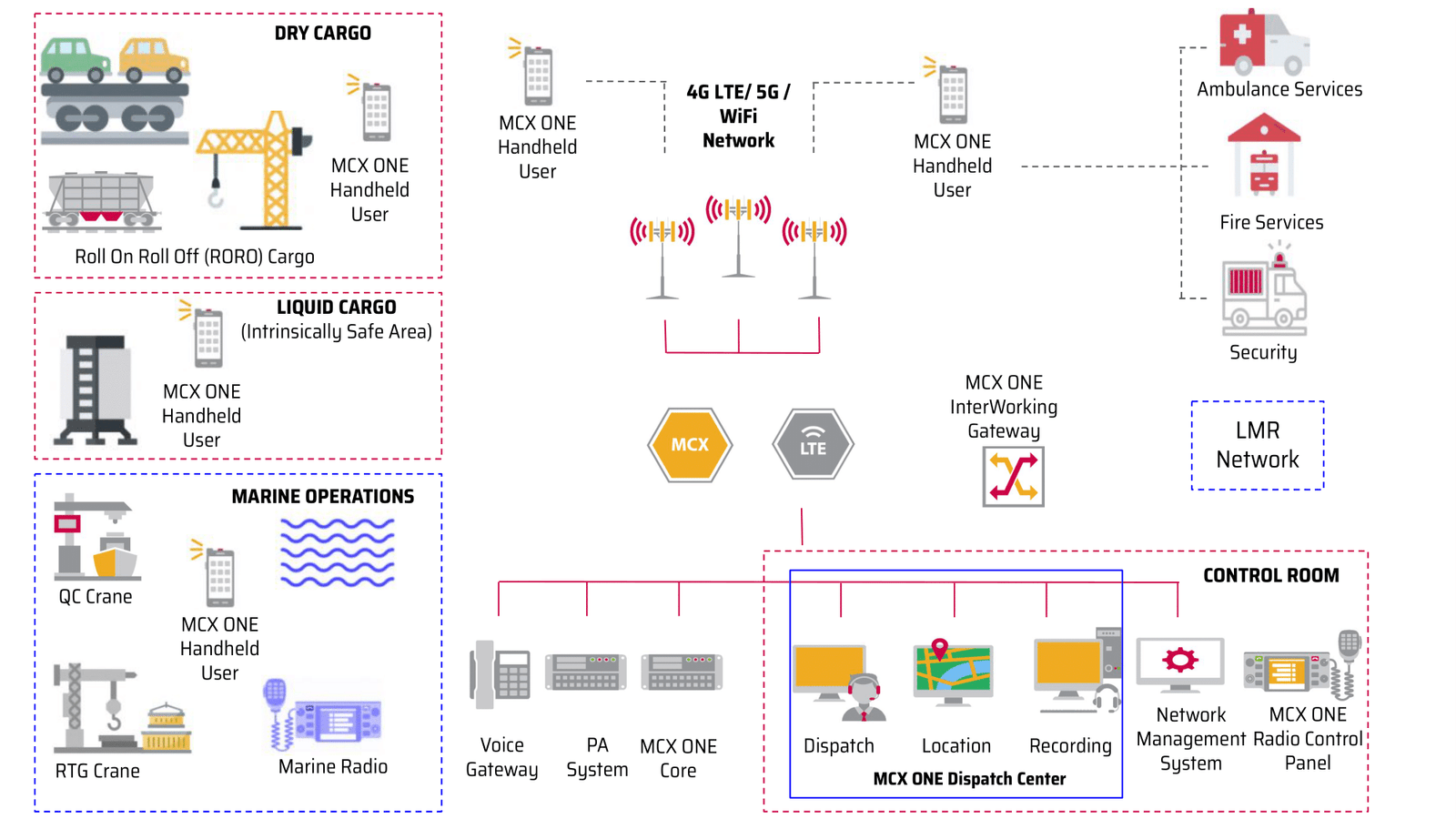 CONSORT MCX ONE mission-critical solution is based on 3GPP's MCX Open industry standards. The MCX ONE mission-critical solution for Ports comprises of :
MCX ONE Core Enterprise Server – Provides mission-critical application services for medium to large organizations.  It offers MCPTT, MCDATA and MCVIDEO features over public and private 4G/ 5G / Wi-Fi networks.
MCX ONE Dispatch Center – MCX ONE Dispatch Center is a next-generation, modern and versatile dispatching solution bracing Voice, Data and Video applications. The dispatching solution provides ease of customization, deployability and integration for control room applications. It provides multiple views for users that include – communication, alerts, locations, recordings, and port-specific views.
MCX ONE Mobile Application – Provides users with the speed and reliability of professional radio PTT along with the ability to share voice, data and video. The application facilitates Push-To-Talk, Push-To-Data, and Push-To-Video from Android/ iOS devices.
MCX ONE Interworking Gateway –  Provides integration of Voice and Data services between MCX ONE and narrowband Land Mobile Radio (LMR) systems through a standard-based feature called Interworking Function i.e. legacy network can continue to co-exist with MCX ONE.
MCX ONE LTE Rugged Handset – Provides advanced features and functionalities to deliver MCX services (Audio, Data and Video) to professional users. It provides outstanding audio quality by providing active noise cancellation in a noisy working environment and contains a dedicated Push To Talk button for emergency services. 
The increased volume of traffic at ports has fueled the need to adopt broadband-enabled networks to facilitate advanced applications at greater speed. The entire MCX ONE ecosystem works together to provide maritime industry users with modern, reliable, and flexible communication solutions. 
MCX ONE offers the following key benefits for the transformation of Ports into Smart Ports –
Instantenous Communication –

The solution is designed to support critical communication by incorporating current narrowband and future broadband technologies such as 4G/ 5G/ Wi-Fi, thereby, bracing Audio, Data and Video functionalities. It also facilitates multimedia messaging, helping users to share real-time information.

Port-Specific Control Room Applications –

As per the specific requirements of the port industry, the solution provides advanced and improved control room functionalities for better monitoring and tracking of all the stakeholders and personnel. The solution also provides integration of other applications on ports such as IoTs, Video Surveillance, GIS, etc. to provide a unified platform for all. Also allows users with accurate location services to track and share locations with other personnel, create geo-fencing, etc.

Cost-Effectiveness – Offers cost-effective solution by s

upporting an open vendor environment as it provides three deployment options according to the customer's requirement. It also supports the deployment of public and private networks as per customers'

CAPEX

and

OPEX

models. 

Interworking capabilities with legacy LMR Networks –

Currently, the ports are using narrowband LMR devices for most of their operations. MCX ONE solution is interoperable with LMR devices, thus providing smooth connectivity and allowing LMR devices to co-exist with MCX devices.

High Scalability and Reliability –

Ports cater to ever-growing operations thus, require a solution that can meet the growing needs. MCX ONE solution provides flexible deployment options as per the customer's requirements that can be scaled up for growing requirements.