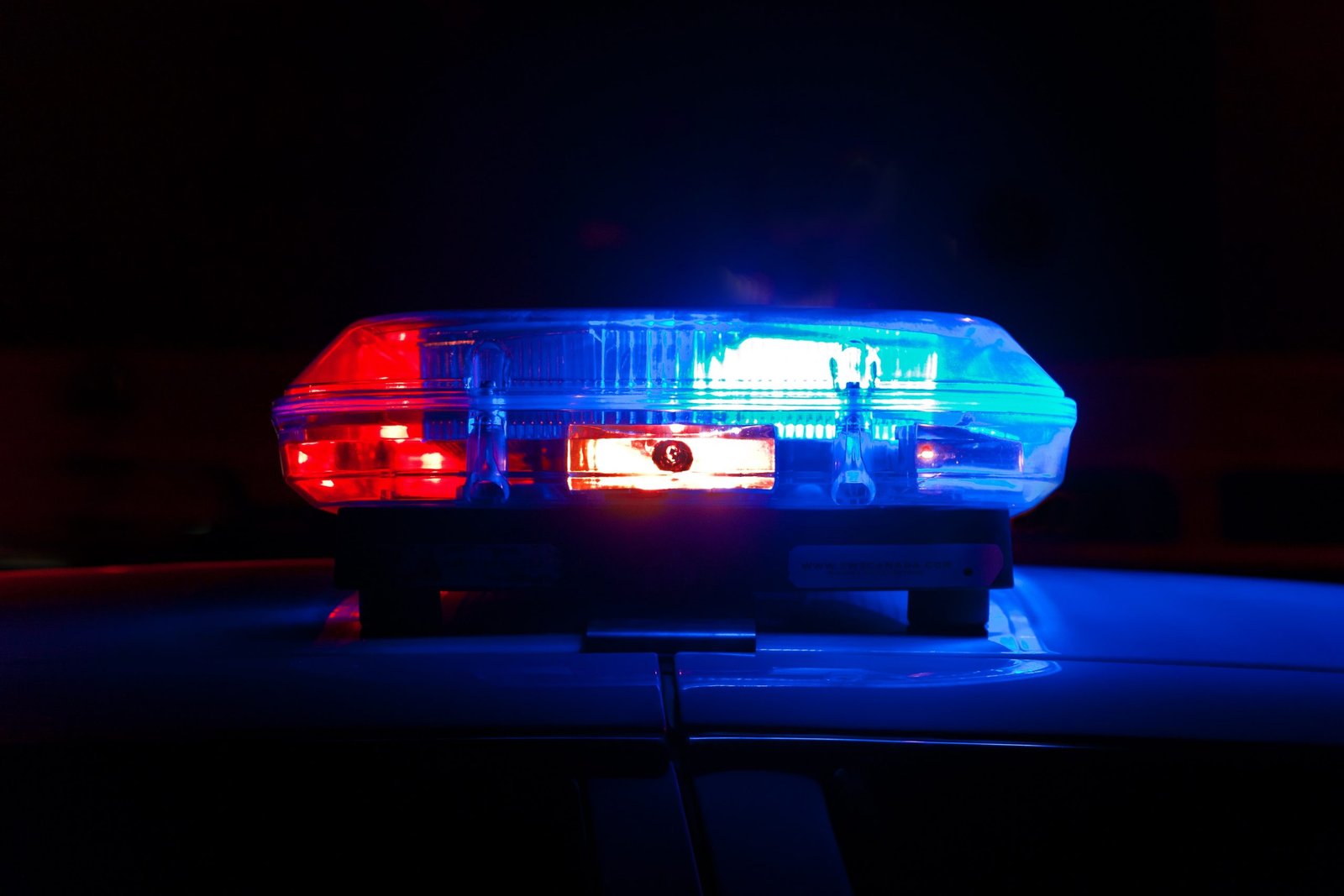 With the rapid urbanization and population, public safety has become one of the key issues that need urgent attention and modernization for its successful operations. Since public safety is the key pillar of any country, it must always ensure fast, secure and reliable communication for smooth operations across the city.
MCX ONE mission critical solutions provide its users with advanced communication services over LTE 4G/ 5G that forms the base for future business and mission-critical communication industries.
Faster and more efficient communication is the most crucial factor in keeping a city safe and secure. A highly reliable and robust communication ecosystem is therefore required to can keep the field source, the command rooms and the control rooms interconnected at all times. 
Some major requirements of the smart public safety system are –
The network must be based on the latest and future-proof technology to ensure quick decision-making and operations for public safety responders. There is a requirement for sharing real-time evidentiary information that facilitates multimedia messages among different stakeholders.
Public safety operations are managed by different forces such as field personnel, control room and command room. These forces/ ecosystem needs to be interconnected at all times, especially in emergencies for trouble-free and well-ordered operations. A unified network is required to maintain coherency among these systems and helps in responding to critical situations seamlessly.
Control Room Applications with advanced and specific functionalities
There is a requirement for advanced and improved control room functionalities that are specific and dedicated to public safety operations to ensure operational efficiency across the city 24/7.  The control room applications must provide proper monitoring and positioning of field forces and immediate assistance for any emergency services.
Interoperability with legacy LMR Systems
Public safety personnel uses devices of different technologies. Thus, the network must be interoperable with the legacy land mobile radio (LMR) network to ensure smooth and coordinated communication.
Integration of Other Applications
Various applications and devices are used by public safety responders such as IoTs, video surveillance, wearable devices, etc. The solution must provide integration with all such applications for a more comprehensive and coordinated approach to incident management and other critical operations.
Group and Emergency Communication
Public safety responders always cater to critical situations where emergency communication with other team members becomes crucial to notify of potential threats and incidents. Critical operations require the ability to communicate effectively in a group for coordinated actions between different teams and departments in the event of an emergency.
Secure, Reliable, and Resilient Network
Due to the criticality of Public safety missions, the network must be highly resilient, reliable, robust and redundant even in case of natural & man-made disasters, human errors and other technical issues. The network must be highly available and should be able to handle breakdowns and failures in no time. The network must be highly secure to prevent any cyber-attacks for smooth communication and efficient operations between the responders and other forces.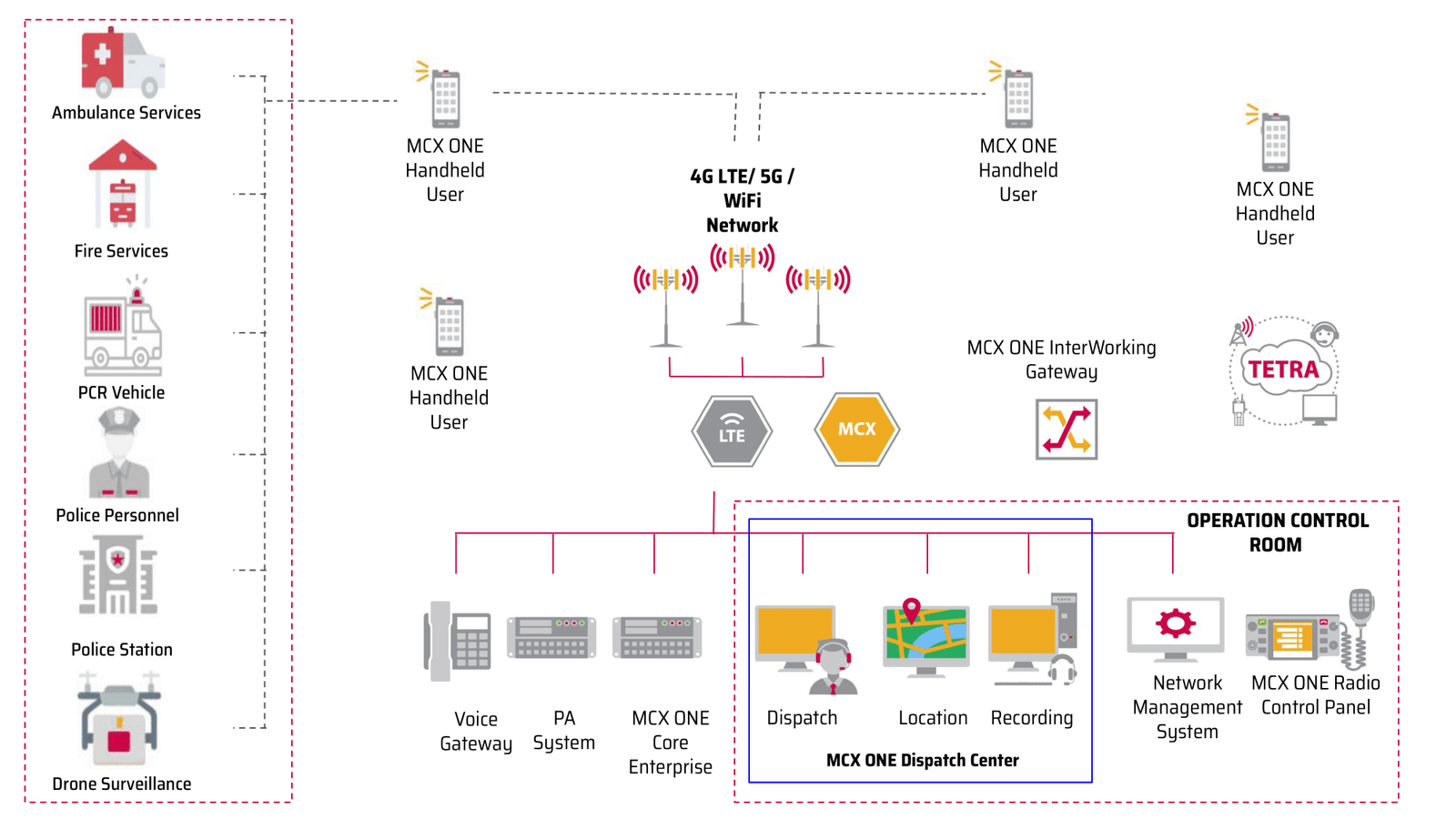 CONSORT MCX ONE mission-critical solution is based on 3GPP's MCX Open industry standards. The MCX ONE mission-critical solution for Public Safety comprises of :
MCX ONE Core Enterprise Server – Provides mission-critical application services for medium to large organizations.  It offers MCPTT, MCDATA and MCVIDEO features over public and private 4G/ 5G / Wi-Fi networks.
MCX ONE Dispatch Center – MCX ONE Dispatch Center is a next-generation, modern and versatile dispatching solution bracing Voice, Data and Video applications. The dispatching solution provides ease of customization, deployability and integration for control room applications. It provides multiple views for users that include – communication, alerts, locations, recordings, and public safety-specific views.
MCX ONE Mobile Application – Provides users with the speed and reliability of professional radio PTT along with the ability to share voice, data and video. The application facilitates Push-To-Talk, Push-To-Data, and Push-To-Video from Android/ iOS devices.
MCX ONE Interworking Gateway –  Provides integration of Voice and Data services between MCX ONE and narrowband Land Mobile Radio (LMR) systems through a standard-based feature called Interworking Function i.e. legacy network can continue to co-exist with MCX ONE.
MCX ONE LTE Rugged Handset – Provides advanced features and functionalities to deliver MCX services (Audio, Data and Video) to professional users. It provides outstanding audio quality by providing active noise cancellation in a noisy working environment and contains a dedicated Push To Talk button for emergency services. 
CONSORT M6 – Consort M6 is a smart LTE vehicular communicator – built to easily be installed in a vehicle, allowing personnel to communicate freely and efficiently while driving. Allows real-time tracking of vehicles providing connectivity and security to public safety organizations.
With the advancement in technology worldwide and the increasing demand for real-time evidentiary information, the need for adopting broadband networks for public safety has gained momentum. MCX ONE mission-critical solution can undoubtedly provide the industry with fast, robust, resilient, and secure communication.
MCX ONE offers the following key benefits for the transformation of Public Safety Industries –
Instant and Real-time Communication –

Incorporates current narrowband and broadband technologies such as 4G/ 5G/ Wi-Fi hence brace audio, data and video functionalities. Also facilitates multimedia messages allowing users to share multimedia messages, which would benefit in improving decision-making, coordination and effective communication.

Interoperability with legacy LMR Networks –

The majority of users in public safety are still based on TETRA, DMR, or P25 communications for their everyday operations. Transitioning from LMR could be a cost-consuming and time-taking process. MCX ONE allows LMR users to communicate with MCX ONE devices and hence providing smooth communication.

Advanced and Specific Control Room Applications –

Provides advanced and improved control room applications specifically designed for public safety personnel to ensure operational efficiency. It benefits in providing better monitoring and positioning solutions to its users by supporting accurate location services which can also benefit with an easy and intuitive patrol schedule. MCX ONE aims to provide an efficient, coordinated and unified communication platform that works in correspondence with various applications used by public safety responders.

Support for Various Call Functions –

MCX ONE mission-critical solution provides its users with various call functions  (individual calls, group calls, instant emergency calls & video calls)  and messaging functions (SDS, alerts) for successful operations. Also provides an additional feature of call & data recording for evidentiary and reliable operations.

Low CAPEX and OPEX –

According to the CAPEX and OPEX budgets of potential customers, MCX ONE supports the deployment of public as well as private networks thereby offering a cost-effective solution.

Highly Secure, Reliable and Scalable Solution –

MCX ONE offers a highly scalable network that can easily accommodate users if and when the demand grows by offering flexible deployment options. Public safety organizations often deal with sensitive and confidential information, MCX ONE provides end-to-end security and authentication for data protection.