In the mining industry, where hazards abound, efficient communication is paramount for safety and productivity. Adopting digital and smart mining operations has become pivotal for ensuring seamless monitoring and instant emergency response. By embracing digitalization through 4G/ 5G MCX communication, mining operations can become safer, more sustainable, and efficient. Moreover, it's crucial for maximizing the potential of valuable resources, fostering growth, and bolstering the nation's industry and economy.
MCX ONE mission-critical solutions provide business-critical users with advanced communication services over LTE 4G/ 5G that form the base for successful future business and mission-critical communications in the mining industry.
Real-time safety monitoring, effective data analytics and rapid emergency response is the ultimate requirement for smart and digitalized mining operations. A fully integrated communication system is essential, ensuring safer workplaces, heightened productivity, and informed decision-making, vital for modernized and efficient mining operations. 
Some major requirements of digitalized mining operations are:
Situational Awareness and Location Services
Situational awareness and location services are imperative in mining operations for a safer working environment. Accurate location services are required to keep track of personnel/ vehicles for improved responses during emergencies, while situational awareness is required for enhanced decision-making through data-driven insights, optimizing the digitalized mining industry.
High-speed broadband networks like 4G, 5G, and Wi-Fi are essential for enabling multimedia messages, ensuring faster communication, improved decision-making and rapid response to enhance safety and efficiency in mining operations.
Advanced Control Room Applications
Advanced Control Room Applications specific to the mining environment are essential for monitoring and positioning miners, ensuring their safety, and overseeing working conditions. They enable professionals to provide immediate assistance, optimizing the mining operation's safety and efficiency, thereby transforming to smart mining industry.
Utilizing video cameras and aerial drones, enables real-time monitoring, data collection, and rapid response capabilities ensuring a secure environment, minimizing risks and maximizing the efficiency of digitalized mining operations.
Suitable Devices for Harsh Environment
Harsh and extreme environmental conditions such as high temperatures, noise, corrosive materials, dust and vibrations are a significant challenge for digitalized mining operations. Thus, the devices must be able to withstand these conditions providing efficient communication.
Redundant, Secure and Scalable Solution
The communication solution must provide built-in redundancy and minimum downtime in case of failures and ensure continuous operations to tackle emergencies efficiently. The network must also provide scalability, that can accommodate users as and when the requirement grows.
Interoperability and Multi-Stakeholder Support
Communication networks and devices must seamlessly connect with various technologies and accommodate the needs of multiple stakeholders, including miners, security personnel, management, and emergency services ensuring a cohesive and efficient ecosystem to foster safety and productivity in digitalized mining operations.
Immediate Response in Critical Situations
Timely reactions to emergencies, such as accidents or equipment failures, are essential to prevent injuries and minimize downtime. Miners and other relevant stakeholders must be equipped with interconnected communication systems to initiate emergency calls and respond rapidly to emergencies and disasters facilitated by future-proof technology, ensuring the safety and well-being of mining personnel in critical situations.
Integration with Other Applications
The digitalized mining industry requires a modern communication network that is entirely integrated with other applications such as CCTV, drones, alarm systems, etc allowing for seamless data-sharing, enhancing safety and overall security as well as operational efficiency and effectiveness.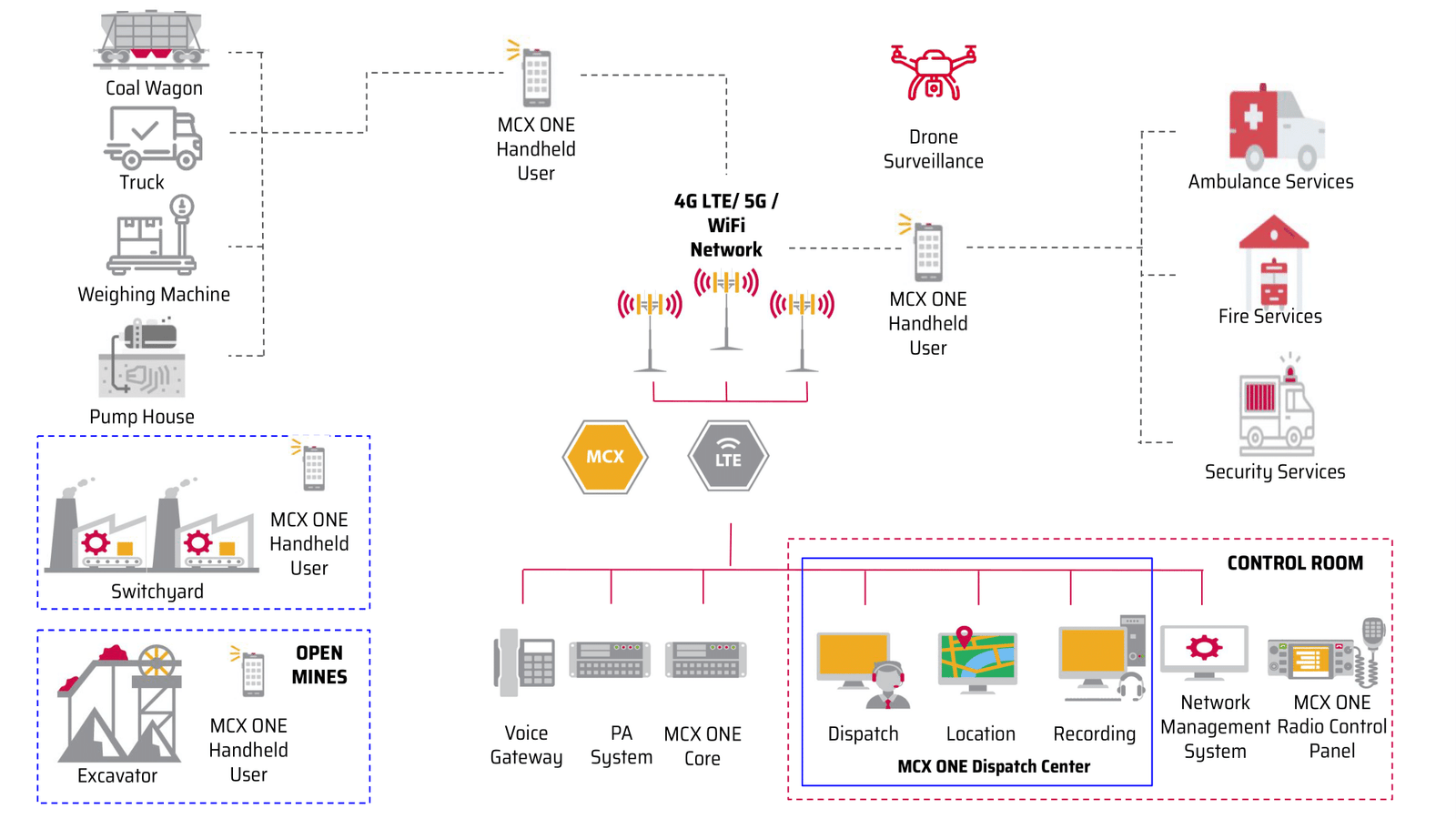 CONSORT MCX ONE mission-critical solution is based on 3GPP's MCX industry standard. It helps to provide fast and secure communication between different stakeholders in the mining industry. 
The MCX ONE mission-critical solution for a digitalized mining industry comprises of :
MCX ONE Core Enterprise Server – Provides mission-critical application services for medium to large organizations.  It offers MCPTT, MCDATA and MCVIDEO features over public and private 4G/ 5G / Wi-Fi networks.
MCX ONE Dispatch Center – MCX ONE Dispatch Center is a next-generation, modern and versatile dispatching solution bracing Voice, Data and Video applications. The dispatching solution provides ease of customization, deployability and integration for control room applications. It provides multiple views for users that include – communication, alerts, locations, recordings, and mine-specific views.
MCX ONE Mobile Application – Provides users with the speed and reliability of professional radio PTT along with the ability to share voice, data and video. The application facilitates Push-To-Talk, Push-To-Data, and Push-To-Video from Android/ iOS devices.
MCX ONE LTE 4G/ 5G Rugged Handset – Provides advanced features and functionalities to deliver MCX services (Audio, Data and Video) to professional users. It provides outstanding audio quality by providing active noise cancellation in a noisy working environment and contains a dedicated Push To Talk button for emergency services. 
The adoption and rollout of the entire MCX ONE ecosystem provide mining sectors with fast, robust, resilient and secure communication resulting in increased productivity, immediate & informed information for improved decision-making, and better security of mining personnel.
Key benefits of the MCX ONE solution are as follows –
Futureproof communication with Mission Critical Push-to-X –

The solution incorporates current narrowband as well as future broadband technologies LTE 4G/ 5G/ Wi-Fi enabling push-to Audio, Data and Video capabilities. It supports multimedia messages for immediate response in case of emergencies ensuring real-time communication and enhancing safety and operational efficiency. 

Specific and Advanced Control Room Functionalities –

Offers specialized control room features tailored to the mining environment, enabling relevant stakeholders to monitor and position accurately. This enhances overall efficiency by providing precise location services to the relevant stakeholders.

Lower Operating Cost –

Delivers a cost-efficient solution by aligning with the financial models and budgets, encompassing both CAPEX and OPEX, tailored to the diverse needs of professional customers.

Interoperability and Integration with Existing Infrastructure –

The solution provides interoperability with existing LMR networks thus allowing LMR devices to co-exist with MCX ONE. Also, integrates with other applications such as CCTV, alarm systems, etc enhancing overall system efficiency and versatility facilitating streamlined operations and improved safety.

Scalable and Reliable Solution –

Mines continually expand their operations and therefore need a scalable solution. MCX ONE offers flexible deployment options tailored to customer needs, allowing for easy scalability to accommodate growing requirements.

Various Features for Improved Performance –

The incorporation of advanced features, including diverse call options, call recording functionality, and user segmentation, significantly enhances performance, ultimately optimizing efficiency and productivity in digitalized mining operations.