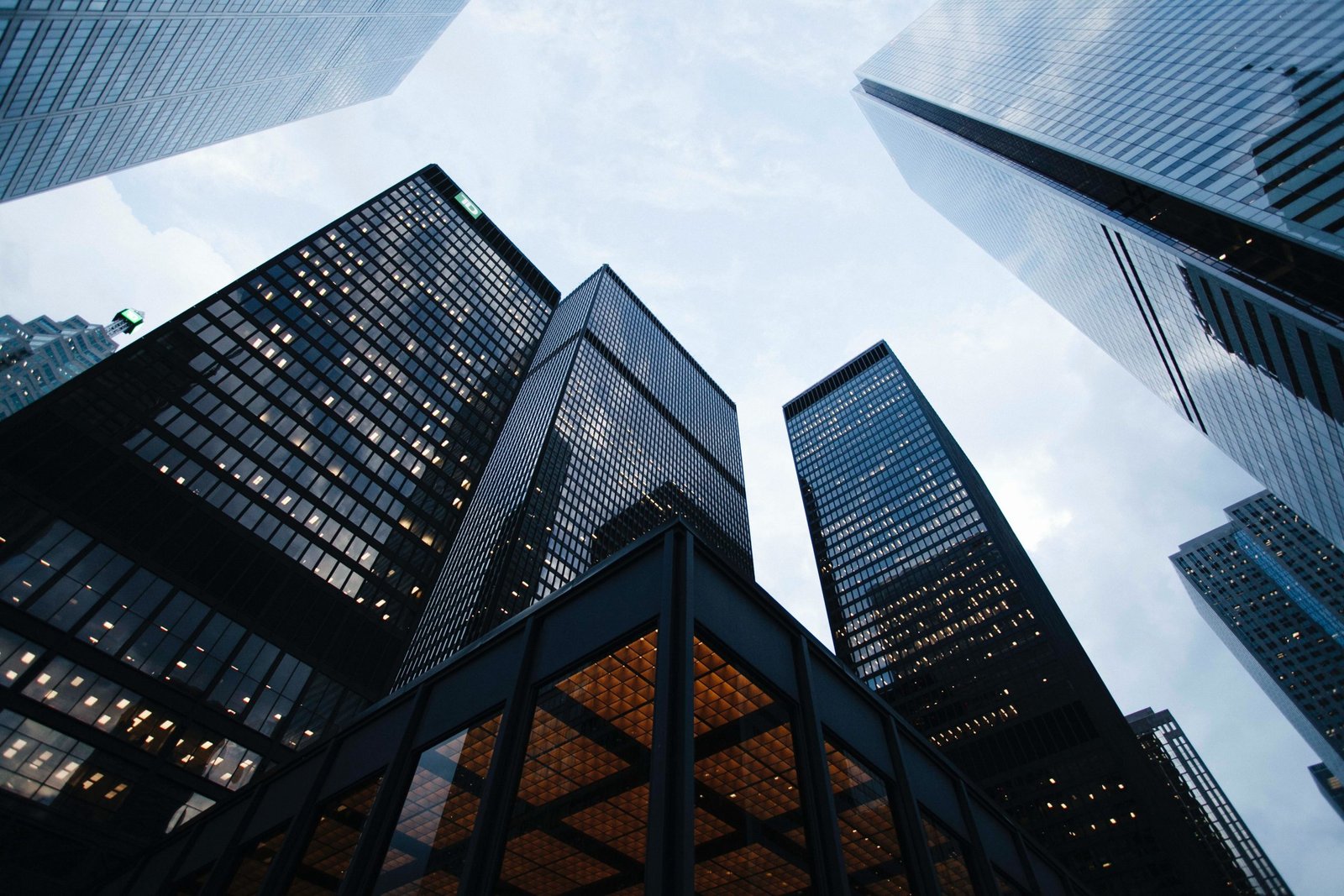 Corporate campuses provide a centralized location for an organization's operations offering a range of facilities, amenities and security measures for a conducive and productive environment for the employees and the employers. Thus, these campuses must ensure smooth operation through the campus area with the highest level of reliability and security.
MCX ONE mission critical solutions provide business-critical users with advanced communication services over LTE 4G/ 5G/ Wi-Fi that forms the base for future business and mission-critical communications in such corporate campuses.
Modern and smart corporate campuses often require a fully connected communication ecosystem for emergency situations or critical incidents within the campus environment to ensure the safety of the employees, security personnel and relevant stakeholders. Thus, a comprehensive and integrated communication network is the ultimate requirement to maintain operational efficiency and to keep the relevant stakeholders informed and interconnected at all times.
Some major requirements of modern corporate campuses are –
Instant and Real-time Communication
Quick and efficient communication is the utmost requirement during any critical incident. A high-speed communication network is required that leverages the speed and capabilities of LTE 4G/ 5G/ Wi-Fi for faster communication and quicker actions. The communication should enable transceiving of real-time information that facilitates multimedia messaging and Push to 'X' facilities for immediate communication and coordination among relevant stakeholders.
The modern communication solution should serve multiple purposes beyond emergency situations. The LTE-based communication network should be used for routine campus operations, security patrols, event management, facility maintenance and other activities that necessitate the requirement of reliable and secure communication.
Location Services and Tracking
Accurate location sharing and tracking are required to track and monitor campus vehicles and security personnel in case of emergencies and critical incidents.
Control Room Applications with Advanced Functionalities
Control rooms with advanced functionalities and applications are required that are specifically designed to meet the requirements of corporate campuses to increase overall security and must be able to monitor all the relevant stakeholders to provide them with specific assistance.
The solution must be interoperable with the existing communication systems and infrastructure within the corporate campus i.e. it should communicate effectively with the legacy systems deployed in the campus.
Wide Coverage and Capacity
Comprehensive coverage across the campus is the major requirement, including the indoor and outdoor areas. The solution must be able to handle high volumes of data during peak periods or emergency situations without compromising performance.
Resilient, Reliable and Scalable
The communication solution must provide built-in redundancy and minimum downtime in case of failures and ensure continuous operations to tackle emergency situations efficiently. The network must also provide scalability, that can accommodate users as and when the requirement grows.
During critical incidents/ emergency situations, the network must ensure that mission-critical communication takes precedence and vital information is reaches the right party.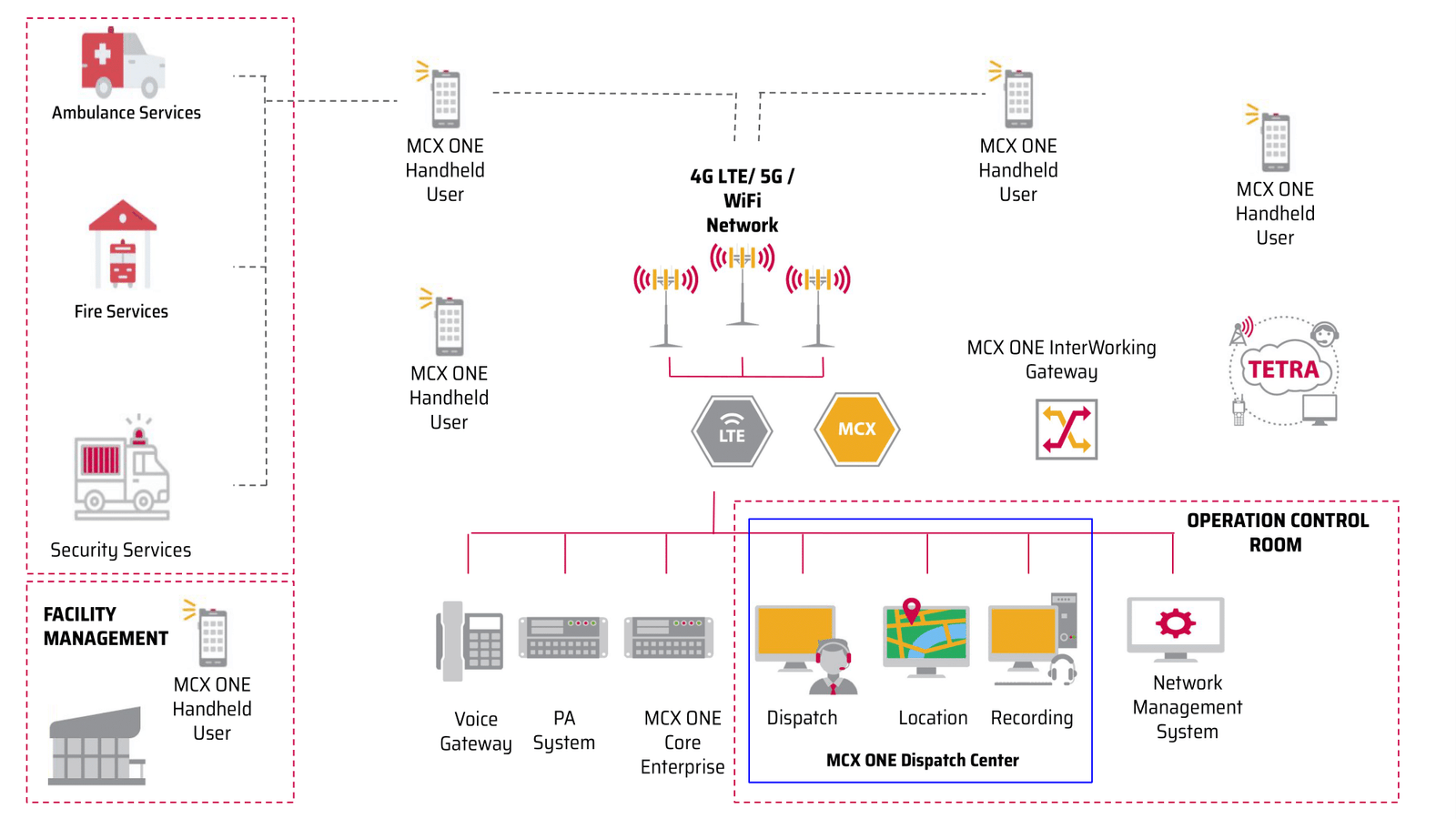 CONSORT MCX ONE mission-critical solution is based on 3GPP's MCX Open industry standards. The MCX ONE mission-critical solution for Corporate Campuses comprises of :
MCX ONE Core Enterprise Server – Provides mission-critical application services for medium to large organizations.  It offers MCPTT, MCDATA and MCVIDEO features over public and private 4G/ 5G / Wi-Fi networks.
MCX ONE Dispatch Center – MCX ONE Dispatch Center is a next-generation, modern and versatile dispatching solution bracing Voice, Data and Video applications. The dispatching solution provides ease of customization, deployability and integration for control room applications. It provides multiple views for users that include – communication, alerts, locations, recordings, and campus-specific views.
MCX ONE Mobile Application – Provides users with the speed and reliability of professional radio PTT along with the ability to share voice, data and video. The application facilitates Push-To-Talk, Push-To-Data, and Push-To-Video from Android/ iOS devices.
MCX ONE Interworking Gateway –  Provides integration of Voice and Data services between MCX ONE and narrowband Land Mobile Radio (LMR) systems through a standard-based feature called Interworking Function i.e. legacy network can continue to co-exist with MCX ONE.
MCX ONE LTE Rugged Handset – Provides advanced features and functionalities to deliver MCX services (Audio, Data and Video) to professional users. It provides outstanding audio quality by providing active noise cancellation in a noisy working environment and contains a dedicated Push To Talk button for emergency services. 
CONSORT M6 – Consort M6 is a smart LTE vehicular communicator – built to easily be installed in a vehicle, allowing personnel to communicate freely and efficiently while driving. Allows real-time tracking of vehicles providing connectivity and security to campus stakeholders.
Implementation of the entire MCX ONE ecosystem provides the corporate campuses with a complete, simplified and unified solution. By streamlining the operations and improving efficiency, MCX ONE helps corporate campuses provide interconnected business environment while increasing the safety, security and well-being of the employees as well as the relevant stakeholders.
Key benefits of the MCX ONE solution for corporate campuses are as follows –
Future-Proof Communication Solution –

Leveraging the speed and functionalities of LTE 4G/ 5G/ Wi-Fi, MCX ONE incorporates current narrowband and future broadband technologies and thereby, providing with audio, data and video capabilities facilitating transceiving of multimedia messages helping users to act immediately in case of emergency situations

.

Specific and Advanced Control Room Functionalities –

MCX ONE provides users with advanced and improved control room functionalities specific to the requirements of corporate campuses allowing them to monitor and position relevant stakeholders. The solution can also integrate with other applications at the campus such as CCTVs to provide more integrated and specific functionalities

.

Low CAPEX And OPEX –

Provides the users with a cost-effective solution by offering CAPEX and OPEX financial budgets as per the various financial models of potential customers.

Interworking Capabilities with Other Networks –

The solution provides interoperability with other LMR networks hence allowing LMR devices to co-exist with MCX ONE

.

Highly Scalable Solution –

Allowing for the expansion of capacity and coverage, the solution provides the campuses with a scalable solution catering to their requirement as and when it grows.