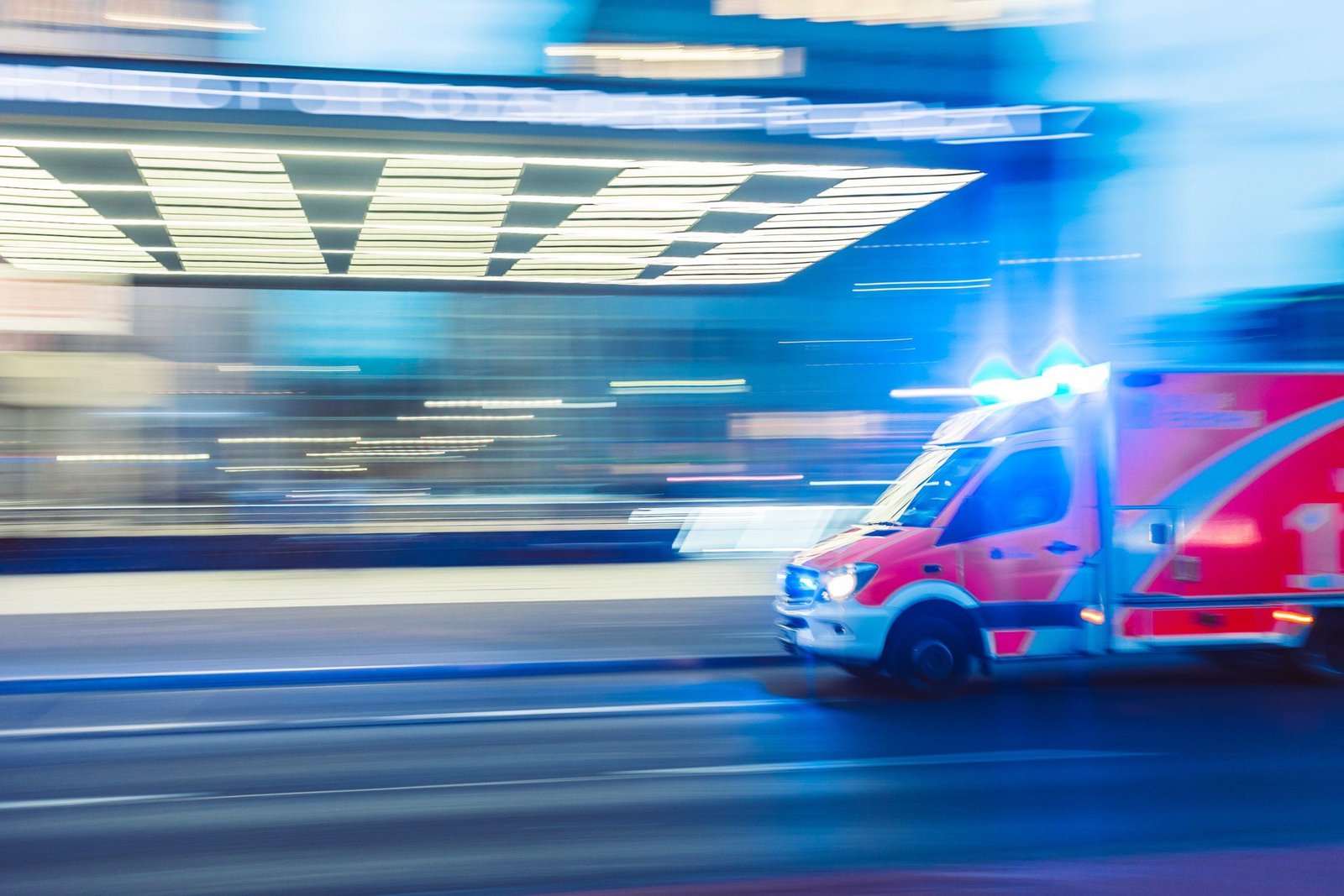 Healthcare professional often deals with critical and emergency incidents involving life and death situations. The healthcare providers, supporting staff, security and other departments must stay connected at all times to cater to emergency situations effectively and efficiently. Gone are the days when medical professionals require traditional ways of communication. Now, smart hospitals require digital communication that must be robust, speedy and reliable.
MCX ONE mission-critical solution provides business-critical users with advanced communication services over LTE 4G/ 5G that form the base for future business and mission-critical communications in the healthcare industry to make their digital journey – a success.
Timely communication of information between various departments and the correct stakeholder is the ultimate key to ensuring the safety and delivery of the right care i.e. critical communication between different departments is essential to determine success and failure in hospitals. 
Some major requirements of critical communication in healthcare are:
Healthcare professionals must be able to share real-time information in critical situations to enable quick decision-making. The network must facilitate the speed and capabilities of broadband 4G/ 5G / Wi-Fi enabling multimedia messages for faster communications and quicker actions.
Situational Awareness and Location Services
Hospitals are required to improve situational awareness through accurate location services enabling correct stakeholders to keep track of personnel and vehicles within the facility leading to resource allocation, emergency response coordination and patient/ visitor safety.
Improved and Advanced Control Room Functionalities
Control rooms with advanced functionalities dedicated to the hospital environment to let the right stakeholders monitor and position the hospital staff within the facility, required by the professionals to provide immediate assistance.  
Integration with Existing Hospital Infrastructure
Smart hospitals require a modern communication network that is entirely integrated with other hospital communication infrastructures such as CCTV, nurse call systems, public announcements, and alarm systems to enable continuous workflows and fewer disruptions during real implementations.
Immediate Response for Emergencies
Hospital staff should be operational, inter-connected and must provide immediate assistance in case of emergencies and disastrous situations. The healthcare professionals shall be able to initiate emergency calls and respond faster in such instances using the capabilities of future-proof technology.
Resilient, Reliable and Scalable Network
Hospitals contain immense data such as patient health records, visitor details, doctor/ nurse shift details and others. These details carry confidential information hence, the solution must be reliable providing end-to-end security against the greatest threats such as cyber-attacks, etc. This allows hospitals to deliver high-quality services while safeguarding privacy. 
The network should also be able to handle failures in the shortest possible time since effective communication in healthcare can make life-or-death differences. 
The solution should be susceptible to scalability according to the current and evolving needs of the healthcare infrastructure and should be able to accommodate users as and when the requirement grows.
Multi Connectivity Devices
The devices should take advantage of multiple connectivity options including cellular networks, Wi-Fi and other dedicated communication infrastructure by automatically switching between available networks to improve overall efficiency.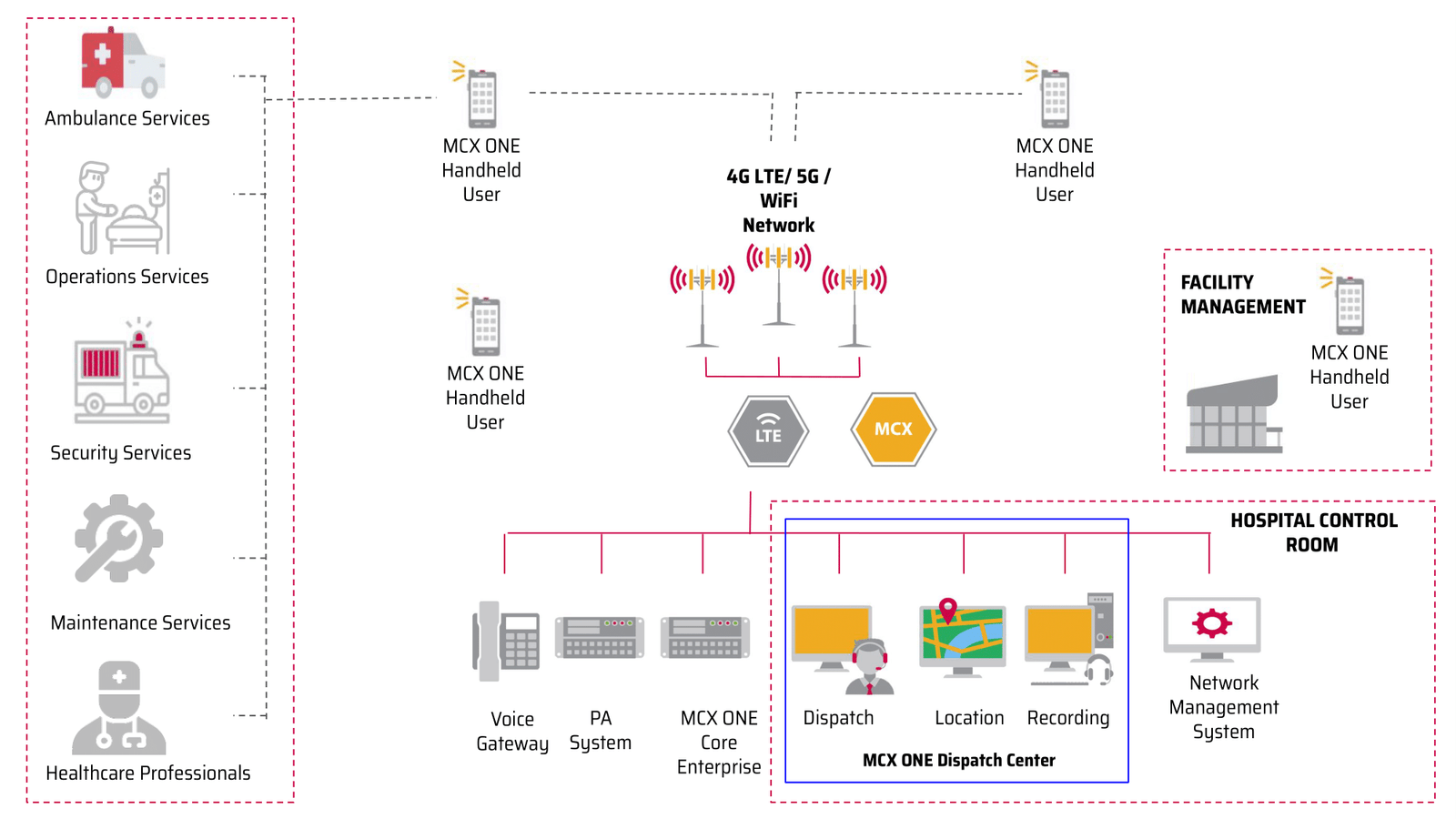 CONSORT MCX ONE mission-critical solution is based on 3GPP's MCX industry standard. It helps to provide fast and secure communication between different stakeholders in the healthcare industry.  The MCX ONE mission-critical solution for smart hospitals comprises of :
MCX ONE Core Enterprise Server – Provides mission-critical application services for medium to large organizations.  It offers MCPTT, MCDATA and MCVIDEO features over public and private 4G/ 5G / Wi-Fi networks.
MCX ONE Dispatch Center – MCX ONE Dispatch Center is a next-generation, modern and versatile dispatching solution bracing Voice, Data and Video applications. The dispatching solution provides ease of customization, deployability and integration for control room applications. It provides multiple views for users that include – communication, alerts, locations, recordings, and hospital-specific views.
MCX ONE Mobile Application – Provides users with the speed and reliability of professional radio PTT along with the ability to share voice, data and video. The application facilitates Push-To-Talk, Push-To-Data, and Push-To-Video from Android/ iOS devices.
MCX ONE Interworking Gateway –  Provides integration of Voice and Data services between MCX ONE and narrowband Land Mobile Radio (LMR) systems through a standard-based feature called Interworking Function i.e. legacy network can continue to co-exist with MCX ONE.
MCX ONE LTE Rugged Handset – Provides advanced features and functionalities to deliver MCX services (Audio, Data and Video) to professional users. It provides outstanding audio quality by providing active noise cancellation in a noisy working environment and contains a dedicated Push To Talk button for emergency services. 
CONSORT M6 – Consort M6 is a smart LTE vehicular communicator – built to easily be installed in a vehicle, allowing personnel to communicate freely and efficiently while driving. Allows real-time tracking of vehicles providing connectivity and security of ambulances and other security vehicles to the correct stakeholders.
By leveraging the speed and capabilities of the broadband network, smart hospitals can be benefited from streamlined operations, exchange of critical information and facilitate collaboration. The implementation of the entire MCX ONE solution will further help the healthcare professional with enhanced emergency response, accurate location services and increased resilience thereby improving patient safety and experience.
Key benefits of the MCX ONE solution for corporate campuses are as follows –
Real-time Communication –

The solution supports current narrowband and future broadband technologies LTE 4G/ 5G/ Wi-Fi hence brace audio, data and video functionalities. Facilitating multimedia messaging allows healthcare providers to share real-time information and improves emergency response.

Specific Control Room Application –

Provides advanced and improved control room functionalities specific to hospital infrastructure, allowing the professional to monitor and position relevant stakeholders by providing accurate location services and overall improved efficiency.

Highly Secure, Reliable and Scalable Solution – 

Hospitals often deal with a massive amount of critical information, MCX ONE provides end-to-end security with AES 256 encryption. The solution facilitates the growing demand for ever-growing hospital systems by providing flexible deployment options as per their requirements.

Cost-Effectiveness –

Provides users with a cost-effective solution by offering CAPEX and OPEX financial budgets according to the various financial models of professional customers.

Integration with Hospital Systems –

MCX ONE ecosystem can be integrated with the existing hospital infrastructure such as CCTVs, announcement systems, etc. to improve the overall efficiency and effectiveness of the hospitals.